From 7 June to 4 July La Sportiva launches the online competition that invites runners to share photos and videos of races and training on off-road tracks.  Up for grabs many La Sportiva Spring/Summer '21 products.
Off-road running is a rapidly growing trend: whether it is running for short distances in the middle of nature with significant differences in height (vertical km), or medium-distance routes on paths in hills and mountains (trail running) or challenging yourself even before the opponents, on ultra-distances, those difficult to train that put a strain on the mind and body (ultra trail), it is clear that trail running, or mountain running as La Sportiva has called it since the launch of the first dedicated footwear dating back to the early 2000s to recall the mountain origin of the company, is in strong expansion.
Running in the middle of nature, with roots and stones under your feet, to reach breathtaking landscapes and paths and feel the elements on your skin has an irresistible charm and allows you to find yourself far from the daily stress of offices, cities and paved roads.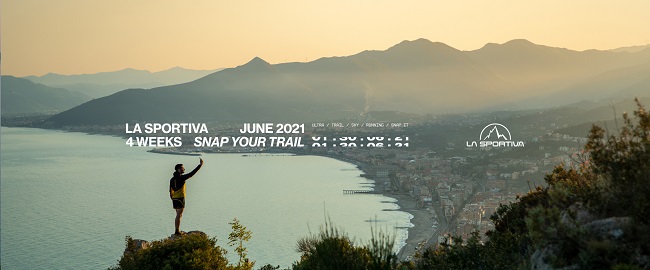 In June, those who love to run off-road, on dirt roads behind the house, in city parks or on the highest mountain peaks, will have the opportunity to share their adventures or simple training sessions, or even moments of preparation or competition, with La Sportiva. Take your photo or record your video, upload to instagram with the hashtag #SnapYourTrail, tag the official instagram page @lasportivagram, share with friends and win: this is the essence of the Snap Your Trail contest. A photo taken quickly before continuing your run, as easy as breathing in the middle of nature, fun, like running with friends
The photos and videos can represent the training or race path, your running partner, yourself obviously or the products in action: what matters is that they are original and that they can be voted on by their community: the most voted will have the opportunity to participate in the draw for La Sportiva products from the new summer collection! Voting must take place on the official competition portal.
Summer is almost upon us: share your playground with us and win.
La Sportiva: for your mountain.
INFO: La Sportiva