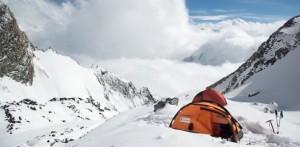 Last days of preparation for the mountaineering skier and Ferrino Ambassador Carlalberto "Cala" Cimenti before his departure for Kirghizstan, scheduled for July, 10th, 2014.
The expedition takes up the Snow Leopard Project interrupted last year, by starting with the hike to Mount Pobeda, 7,439 metres of altitude, then carry on with Communism Peak in Tajikistan, 7,495 metres of altitude.
The Snow Leopard project foresees to conquer all seven peaks higher than seven thousand metres in the former Soviet Union. From 1981 up to the present date, such commendation has been granted just to 567 climbers. In that list no Italians are present.
Last year, 39 year old Cala has already reached the top of Khan Tengri, Lenin Peak and Peak Korzhenevskaya. He is only missing Pobeda and Communism Peak.
During his training he took part in some trail running in this early season, interchanged with long training sessions in mountain bike and stays at high altitude where he tested the Ferrino technical material he shall bring along during his adventure. Among this equipment, Cala is testing a prototype backpack called
RADICAL 80+10 specifically developed by the Italian Company for this expedition.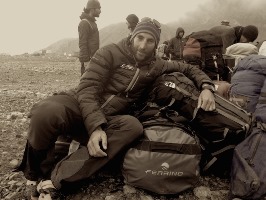 Ferrino has always supported its Ambassador by endorsing their endeavours, because the Company strongly believes that a valuable product should out come from a real adventure.
The sport project of Cala shall not end with the Snow Leopard expedition. When he is back in Italy, Cala will take part on September 7th to a well known endurance trail run 330 kilometres' long, called "Tor des Géants", which winds along the whole perimeter of Aosta Valley.
For more information on Carlalberto "Cala" Cimenti visit the page dedicated to Ferrino Ambassadors
The Snow Leopard adventures by Cala can be followed on real time on the Facebook page SNOW LEOPARD
SKI PROJECT: https://www.facebook.com/pages/Snowleopard-Ski-Project/425097330917221
FERRINO OUTDOOR Facebook page: https://www.facebook.com/FerrinoOutdoor