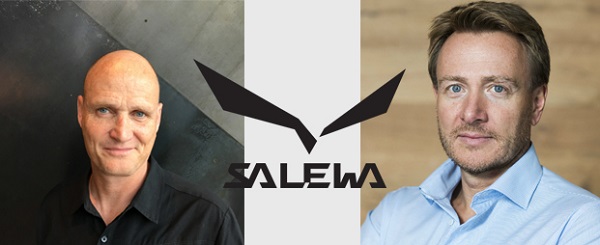 SALEWA North America, which operates the DYNAFIT, SALEWA, WILD COUNTRY, and POMOCA brands in the United States and Canada has appointed Brian Mecham as new General Manager. The company is a subsidiary of Oberalp Group S.P.A. based in Bolzano, Italy and was established in 2006.
Brian Mecham has been General Manager of ICEBREAKER for the US market since September 2014 and responsible for wholesale, retail, e-commerce, marketing, operations and finance. He managed an omni-channel sales organization to maximize growth opportunities and create a seamless customer experience across all touch-points of the brand. Prior to Icebreaker Brian worked for BLACK DIAMOND EQUIPMENT as Vice President of Sales overseeing North American Wholesale, Direct to Consumer, and International Distributors, and at PATAGONIA, he first served as a Sales Representative and then as the Western Regional Sales Manager.
Brian has tremendous respect for the Oberalp brands, their strong presence in Europe and the quality of their products, but he also understands the competitive landscape in North America. Brian has noted that by developing a NA commercial plan for all of the Oberalp brands and by reinforcing wholesale partnerships there is significant growth potential for Dynafit, Salewa, Wild Country, and Pomoca in both the U.S. and Canada. "Today's business environment has many opportunities and challenges and Brian's experience will complement the existing team in Boulder to tackle the next chapter for SALEWA NA," Oberalp Group's European leadership commented.
Brian Mecham reports to Claes Broqvist, who, as Regional General Manager, has been leading business development in North America since January 2016. Previously, Broqvist spent six years working as sales director for Swiss company ODLO, after which he worked for seven years as sales and marketing manager for HAGLÖFS and, as apparel sales director, was in charge of the emerging markets division at NIKE. In addition, Broqvist oversees business development in Asia, UK and is responsible for all brands' export transactions. "With Brian's expertise, SALEWA North America will further strengthen relationships with our dealers, guide associations, local outdoor clubs, backcountry skiing, climbing and mountaineering communities. We always want to be perceived as easy to work with, as inclusive brand spirits and frankly… as really nice people to do business and enjoy adventures in the mountains with," said Broqvist.
Brian Mecham takes over from Christopher Sword who was hired in 2006 by the Italian Oberalp Group to establish and run its subsidiary until now. "We want to thank Chris for his amazing level of passion and dedication and wish him all the best for the future. He built a profitable business and a strong team that he leaves behind as a testament to his dedication and hard work," said Massimo Baratto, Oberalp Group's CEO.
Photo: Outdoor Magazine
INFO: SALEWA