From 27 to 29 July 2018, pack your Duffel bags, turn the Out-Of-Office on, and get ready for the biggest adventure weekend of the year. The North Face Mountain Festival returns, flying into Val San Nicolò, a magnificent valley branching off the Val di Fassa in one of Italy's most famous mountain regions – The Dolomites.
Panoramic views of Italy's most beautiful mountain terrain, the Dolomites, is the backdrop for the third edition of the wildest festival on the planet. Climb walls, hike and run breathtaking alpine trails as well as learning new skills from adventure photography to cooking up a wilderness feast. This is a long weekend that will leave your muscles tired, your spirits high, and your heart content.
Musicians and mountain athletes headline this year's basecamp stage. Conrad Anker and David Lama will tell the tale of their second attempt on Lunag Ri (22,660 feet), one of the Himalayas' last unclimbed peaks. During this climb, a blockage in Anker's left anterior descending aorta, aka a heart attack, cut short the attempt. Following this epic premiere, Gallowstreet will turn up the sound, hit the strings, and take the party into the early hours.
All this and a hell of a lot more, but you need to move fast for a ticket! A limited run are available now (and tones more info) at https://www.thenorthface.it/mountain-festival.html from 149 EUR.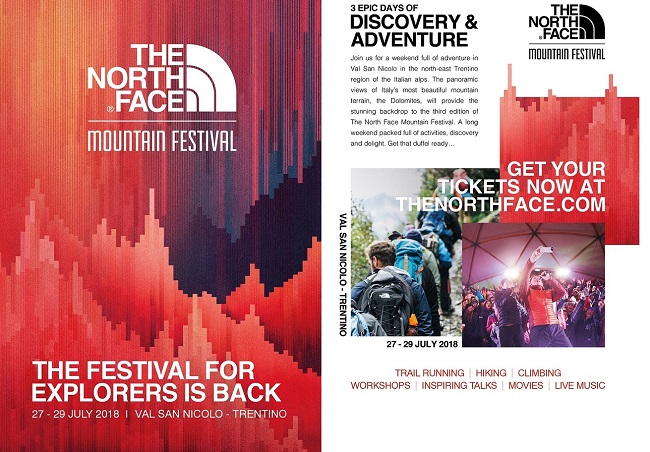 Missed the tickets? Or already booked a flight to the World Cup? You can follow all the action via @thenorthface on Facebook and @thenorthfaceuk on Instagram #neverstopexploring.
What's included in your ticket?
All organized hikes, trail runs and climbs. These form our core activities and are run by The North Face athletes and local guides.
All Meals; Friday Dinner / Saturday Breakfast, lunch and dinner / Sunday Breakfast
All basecamp workshops and talks.
Evening entertainment including talks, live music and movies.
Camping, including use of all onsite facilities. Please bear in mind you will need to bring your own tent.
Activities (included in ticket)
Our activity schedule will focus on trail running, hiking and climbing
Activities will also be divided into different skill levels and you will be able to pre-register for these online. Please ensure you carefully read which skill level best suits you when booking.
All activities will be lead by a local guide or one of The North Face' athletes.
INFO: The North Face®