THINDOWN® is the innovative, revolutionary, natural and globally patented fabric reinventing the down market, entirely produced in Italy by NIPI (Natural Insulation Products Inc.).
Intuition, disruptive thinking, research, innovation, technology and fearlessness are the key elements that define THINDOWN®, the world's first and only down fabric, 100% made in Italy. THINDOWN® assures outstanding performance such as lightness, warmth, wicking, comfort, strength, breathability and absolute thermal insulation.
THINDOWN® is characterized by a uniform distribution of down that enables the absence of horizontal stitching sections and prevents the passage of cold and leakage of down. Thus, the world's warmest fabric. All confirmed by leading independent laboratory testing.
Sterilized and entirely produced in Italy. THINDOWN® can be applied to unlimited categories and areas of use, allowing unique customization, style and wearability. Fashion, Footwear, Accessories, Home, Military, Industrial and Automotive are some of the applications for the exclusive fabric. Thanks to its versatility, THINDOWN®, like any other fabric, facilitates all variety of personalization, widening the use of down to 365 days a year, increasing trans-seasonal offerings, capsules and custom-built collections.
The revolutionary THINDOWN® fabric is available in real goose & duck down, THINDOWN® Active, a special blend of down and polyester fibers, ideal for active-sportswear, outdoor and performance apparel.
NIPI constant product research has lately developed THINDOWN® Flex, primarily designed for the sportswear and activewear segment, THINDOWN® Flex is innovation within innovation. Thanks to an extensive research program, the down fabric has become elastic, allowing THINDOWN® to stretch and recover without breaking or losing its incredible features. THINDOWN® Flex, with an elastic percentage of 7%, follows body movements.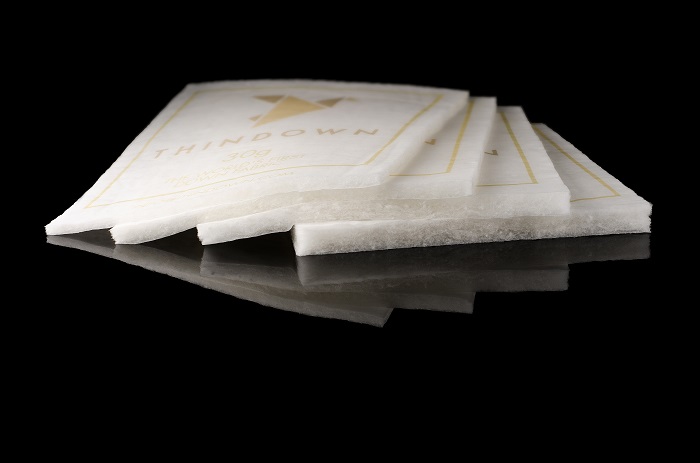 THINDOWN® has further pushed the boundary of research introducing a sustainable version of the innovative fabric made with 100% postconsumer recycled down and recycled polyester scrim: THINDOWN® Recycled. The latest products' update confirms the strong attention of NIPI (Natural Insulation Products Inc.) towards a sustainable development and highlighting the distinctive brand's values: innovation, passion and continuous research.
THINDOWN® has received the RDS seal, Responsible Down Standard, guaranteeing the product is fully traceable and sustainable. It also received the STANDARD 100, Class I, by OEKO-TEX® certification, its highest classification, confirming the absolute quality and safety of the fabric as ideal for use in both infant and children's wear.
The innovative fabric has already been introduced in the collection by a large number of fashion and outdoor brands, such as Eddie Bauer, The North Face, Anta Sport, Brums, Spyder, Prada, Peuterey, Mackintosh, and many others.
For further information, you can contact: THINDOWN®