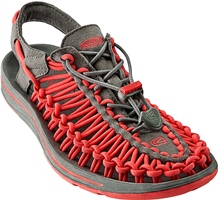 Constantly seeking for innovation and creating new products that support the lifestyles and outdoor adventures of active people, KEEN unveils another truly hybrid product: UNEEK™, a sandal unlike anything you've seen before.
Created from two cords and a sole, weaving urban, outdoor, function and style, UNEEK™ has an entirely new footwear construction that challenges the convention of footwear manufacturing. The result? A sandal with a truly unique fit.
"We began by examining the foot and redesigned every single piece of the sandal, to compliment the shape of the foot in the best way," said Jeff Dill, business unit director of the Trailhead category at KEEN. "We started with one element: the cord, then built off of that only adding what was absolutely necessary. There is beauty and elegance in its simplicity, which promises one-of-a-kind fit and feel that is unique to UNEEK."
With a look and feel unlike any other, UNEEK maintains the comfort that KEEN  fans have come to expect from KEEN. Using a pull-through construction, UNEEK is made up of two cords and a simple, free-moving cord junction design that allows the upper to move and adapt to the user's foot. This construction provides freedom while providing security and structure. A lightweight PU midsole delivers top-notch durability next to comfort. Rubber pods and razor siping on the outsole provide protection and traction in high-wear areas.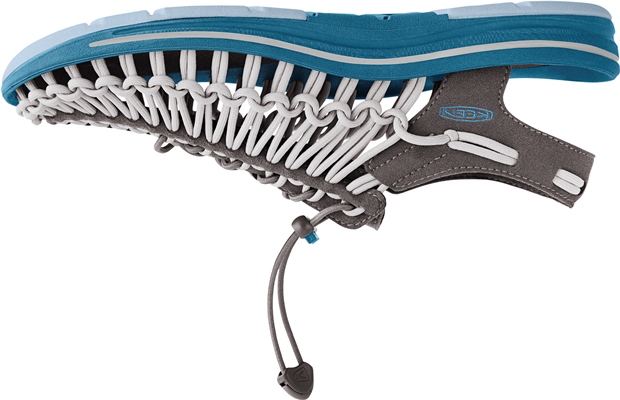 UNEEK (RRP €111) provides custom-fit comfort at a weight of only 290 Gram and is available in several colors for both men and women.
"KEEN is a brand built around doing things differently and challenging the status quo. UNEEK is the next generation of footwear, featuring unexpected design with KEEN comfort and protection" Jeff Dill added.
KEEN launched the limited edition UNEEK on www.keenfootwear.com and in KEEN Garages on June 5, 2014.
INFO:
KEEN