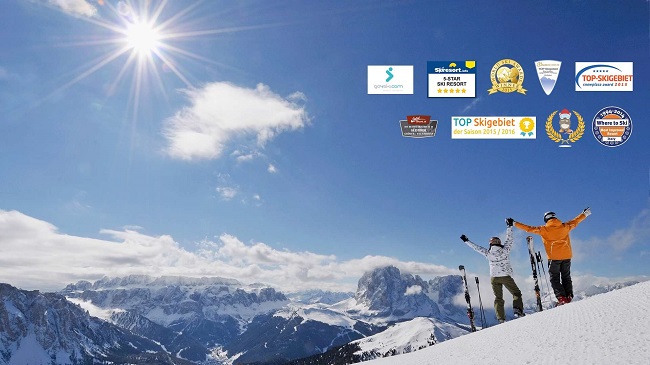 Val Gardena has what some may call an international siren call, as proven by the numerous tourists from all corners of the world and its membership of the 'Leading Mountain Resorts of the World', an association which pools all main mountain tourist destinations which offer high-quality holidays. 
Besides Val Gardena, Saas Fee (Switzerland), Åre (Sweden), Banff/Lake Louise (Canada), Bariloche (South America) and Queenstown (New Zealand) are also part of this elite group.
In the last years, Val Gardena has received numerous recognitions, including five stars as 'best skiing area' by German website skiresort.de, one of the most important in the world for assessing skiing areas. Moreover, famous travel portal Trip Advisor awarded Selva Val Gardena the 6th place out of the top 10 most voted in the annual 'Travellers Choice Award' where tourists vote the best holiday destinations, placing just after the city of art par excellence and some beach locations.
Start and end of season offers.
All Dolomiti Superski ski passes (daily and multiday 2-28 days) are free for children up to 8 when purchased with the same type and duration adult ski pass. Even young skiers are entitled to discounts of 30%. If you're hunting for a bargain, i.e. a beautiful holiday in Val Gardena for a deal, there are very interesting start and end of season offers.
From 25 November to 24 December 2016, the SuperPremière offers will allow you to spend 4 nights with ski pass and rental of equipment for the price of 3. From 18 March to end of the season, the Val Gardena Family Special, many establishments taking part in the initiative, will offer accommodation, ski pass and free hire, as well as special discounts for children. Moreover Val Gardena SuperSun will offer 7 nights for the price of 6 and ski rental for 6 days for the price of 5. Further information at www.valgardena.it.
Highlights – winter sports
Fis Ski World Cup: 16/17 December 2016
Vertical Up 21 January 2017
Skitouring MOVE: 11 March 2017
Sellaronda Skimarathon: 24 March 2017
Südtirol Gardenissima: 01 April 2017
Südtirol Gardenissima KIDS 02 April 2017
Highlights – culture
Christmas Market: 2 December 2016/8 January 2017, S. Cristina
Christmas Village: 1 December 2016/8 January 2017, Ortisei
Mountain Christmas 2 December 2016/8 January 2017, Selva
Snow sculpture competition: 27/30 December 2016, Selva
Ice sculpture competition: 20 January 2017, Ortisei
Rock The Dolomites 12/19 March 2017, Selva.
INFO: Val Gardena