Polartec®, a title sponsor of rh+ Polartec Fundación Contador for the 2016 season is offering one UK amateur cycling enthusiast the chance to be a Cycling Pro for a week. The competition will run from 29th August through to the 26th September. The lucky winner will travel to Gran Canaria this October and will have the chance of a lifetime to train with Contador and his team as well as gaining valuable nutrition and training advice from the raft of professionals that operate behind the scenes of Team Fundacion Contador.
Following on from the announcement of Polartec's involvement with Fundacion Contador back in February, the innovative fabric brand has taken its partnership one step further and is offering the international community, 10 opportunities to train with Contador himself this October.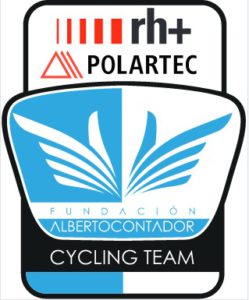 The Competition which will be run in 10 countries, will require entrants to cycle 1000 kms in one month [or less] in order to be in with a chance of winning. Only those that can keep up with Contador's pace will be able to win five days of professional training with the Polartec Fundacion Contador Team. How it will work: via Strava, hopefuls will be asked to sign up on the dedicated website: 29th August to the 26th September. Each competitor will work their way through four levels of personal challenges. As each level is completed, the cyclist will be awarded a badge and the next, more difficult stage will be unlocked. Entries must be in and the 1000 kms completed by the 26th September. Each participant will have the opportunity to win weekly prizes offered by cycling brand leaders such as Castelli, Sportful, Rapha® and rh+ made with Polartec Fabrics. The official launch will be a few days before the European trade bike show -­‐ EuroBike 2016. A panel of judges will announce the winners on the 7th October 2016.
Polartec fabrics are becoming ever more popular in the cycling market, offering breathability and protection from the elements; invaluable qualities when looking for the ultimate training and race kit. In order to test its fabrics to the max, Polartec decided to team up with one of the world's best riders: Alberto Contador. This summer, the Team's summer and winter race kit will feature Polartec fabrics: the brand recognises and appreciates the future-­‐ focused vision of cycling held by the Team founded by the Contador brothers. Polartec realises that this is the ideal environment to develop and test innovative cycling products with the help of the athletes from the team.
For more information on the #FollowContador Competition please visit:www.followcontador.com
INFO: Polartec