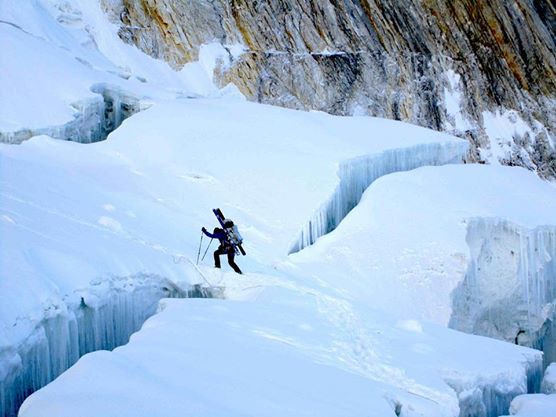 It took five attempts, two in 2013 and three this year, but at the end Carlalberto Cimenti has reached its peak of victory. The summit of Peak Pobeda, Peak of Victory in Russian, was achieved on Wednesday, August 12th. The numbers are important in this adventure that speaks Italian, because "Cala" Cimenti, mountaineer of Pragelato, and MASTERS' Pro Team athlete, is the first Italian to reach this desired and difficult goal. And, at least for now, he is the only one in the last two seasons. A feat lasted for six days and five nights. Height of 7.439 meters, the hardest part represented by a long ridge 12 kilometers, that is included with the 6.900 meters up to the top, and untouched throughout 2013. About this interminable ridge Cala says: "I walked for more than 13 hours, practically in space. Alone, because my partner Ivo had a beginning of pulmonary edema and had to stop". So, when he came back from the top, they descended in a rush: "It was not a nice experience to see him staggering not knowing if he could reach lower altitudes". Pulmonary edema is very dangerous and deadly; it is one of the risks a climber faces, and also Cala, in 2006, has been hospitalized for the same problem.
The Pobeda is the highest peak of Kyrgyzstan, the northernmost of Tien Shan, on the border with China, the one with the unforeseeable weather, which can change in a few hours. Just as a strong wind, wailing at more than 70 km / h, had stopped him at 6.400 meters during the second "attack" to the summit ten days ago. But the "Snow Leopard" was there and he could not pass up the last attempt to reach the fourth of the five highest peaks in the Former Soviet Union.
Now he will take a few days of rest at Base Camp, then will return to Bishkek, capital of Kyrgyzstan, where he will wait for the flight to Italy. A complete athlete in any outdoor sport, in September he will take on a new challenge at the Tor des Geants, 330 kilometers of racing around the perimeter of the Valle d'Aosta for this trail which is considered the hardest in the world.
The challenge, with himself, continues. Waiting for the next summer and that roar at high altitudes.
– See more at: http://www.masters.it/en/cala-e-vetta/#sthash.GkVKLRRT.dpuf
INFO: MASTERS