The C.A.M.P. catalogue entails every possible technical item you may need during your mountain activities.
This is a complete offer, which encompasses ice axes, crampons, carabiners, helmets, backpacks and harnesses. Speaking of which, C.A.M.P. can boast a decades-long tradition showing innovation, with models which have become historical icons, such as the 1983 Free Climbing, the 1992 extremely light Speed Up and the 2011 really comfortable Laser. Starting from this, our harnesses line still suits every need, such as the Air CR for top level climbing, Jasper CR3 with a broad spectrum of uses, and the Supernova, especially conceived for women.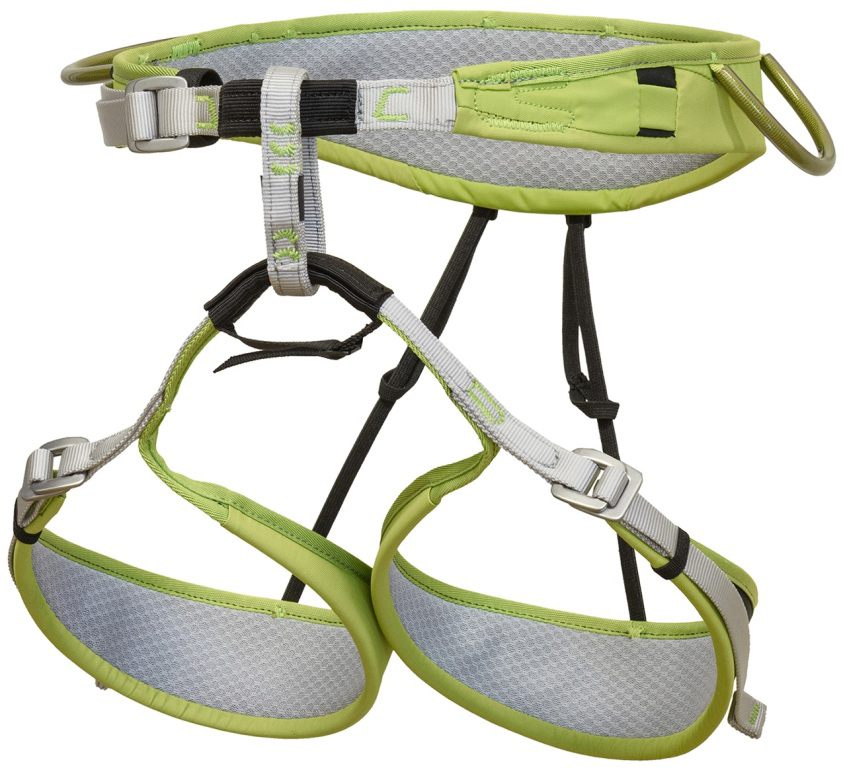 AIR CR. The Air CR has become a popular choice for ice climbing and light and fast rock climbers alike due to its blend of lightweight and comfort. The new Air CR has been redesigned to be even more comfortable and durable. Edge-load construction keeps the harness light while a new ergonomic cut with 3 mm of perforated EVA foam and soft 3D mesh also make it extremely comfortable for long days on the rock.
The new external mesh is extremely resistant to wear and tear from rubbing in off-widths and chimneys. 4 webbing reinforced gear loops are positioned for easy access to gear and Hub accessory biner attachments allow ice climbers to rack up to 18 screws. Weight 350 g (M size).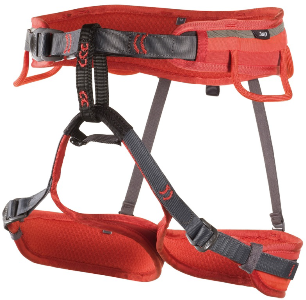 JASPER CR3. The Jasper CR3 is a great choice for climbers who want one harness that will do it all. The innovative Sliding Waist Belt allows the harness to be centered perfectly on the waist for the safest and most comfortable fit. Patented systems include the 15 mm No-Twist belay loop (a special loop inside the main loop holds the belay carabiner to prevent it
from shifting) and an update to our Flat Link elastic that connects the waist belt and leg loops in the rear. Molded front gear loops keep draws at the ready, slots between the gear loops on both sides accept the Hub racking carabiners for carrying ice screws and the new haul loop makes the Jasper CR 3 ready for big routes. Weight 450 g (M size).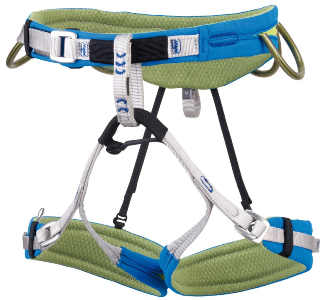 SUPERNOVA. A harness designed by women for women. The Supernova started as a conceptual lightweight harness for high-end sport climbing, but proved so comfortable it became the ideal all-arounder. Modified edge-load construction offers the best support-to-weight ratio, especially over time where the unique construction prevents the kind of cupping and contorting typical of other edge-load harnesses. The thin
padding, profiled cut, and modifed rise eliminate the pressure points commonly noticed by women while the strong materials and construction truly make the Supernova ready for any kind of climbing; from high-end sport climbing to big, bad trad. Weight 373 g (M size).
INFO: C.A.M.P.