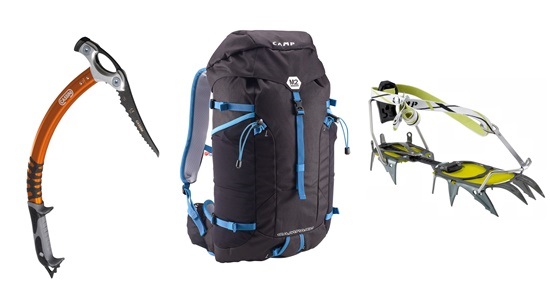 Ice-axes and crampons have always acted as business card for us: we crafted tools which wrote chapters in the history of mountaineering, such as the Hummingbird ice-axe and the Footfang crampon. Our workshop keeps on manufacturing tools which then become leaders on the market, ranging from the
simpler ones for glacier walks and normal routes, to the more sophisticated ones, conceived for engaging ascents. For ice and mixed climbing at altitude, nothing beats the X-All Mountain ice axe, with its extraordinary stroke, and the C12 crampon. A perfect rucksack is essential in the mountains, for this reason C.A.M.P. has just the perfect item for you, such as the sturdy and compact M2.
CASSIN X-All Mountain
The X-All Mountain is simply a perfectly-balanced, fine-tuned, high-quality ice climbing machine. Due to its simplicity, it climbs all angles of ice with much more fluidity and consistency than other modern tools. The profiled pick and perfect head weight make it the best tool for thin ice where it penetrates aggressively with minimal impact on the ice. The interchangeable handles feature dual-density construction for a good grip, excellent insulation and solid durability over time. The lower pommel is large enough to work with gloves of any size and thickness. Weight 628 g
CAMP C12 Automatic
The C12 Automatic is the best choice for advanced mountaineering and alpine routes. Innovative 3-D pressed construction (not just bent) on the front platform
distributes pressure applied to one point across the platform to signific – antly increase the strength of the crampon. Automatic bindings offer the most secure fit for rigid boots with full toe and heel welts and are the only recommended binding style for A/T and Tele boots. Striking colors that coordinate with the technical Alpina ice axe. Weight 976 g
CAMP M2
The M2 is the pack for the modern alpinist. The simple construction makes the M2 extremely tough and give it a low profile which is noticeable during light
and fast ascents. Technical features include mesh pockets on the waist and shoulder straps, 2 large mesh pockets on the sides for easy access to layers and
other essentials, an external helmet carrying system that hides away when not in use, 2 ice axe carriers designed for use with modern tools, holders for
trekking pole, lateral ski holders, and rope carrying straps. Weight 900 g
INFO: C.A.M.P.