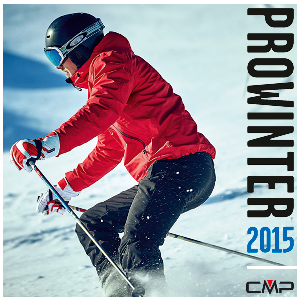 CMP, the F.lli Campagnolo group's sportswear manufacturing brand, will be at the next PROWINTER show taking place in Bolzano (Italy), 9-11 April 2015.
Its unceasing research into innovating, high-performance materials together with its distinctive style expertise enable the brand to interpret a growing demand from professional consumers by creating its new CMP TEAM WEAR range.
A collection for ski professionals, such as ski schools, coaches, clubs and slope maintenance staff, specifically designed for those for whom skiing is a profession.
CMP TEAM WEAR meets the need for strong, practical, protective, comfortable and reliable clothing which also has the style and eye for detail for which the brand is indisputably known.
The models are made of high-performing materials, such as waterproof, breathable four-way-stretch laminated fabrics; top-performance technological padding (PRIMALOFT, to mention just one) and YKK fastenings. Their construction is engineered so as to allow maximum personalisation of each article. Also, body-contoured fits and ventilation systems ensure maximum
comfort under any weather conditions.
PROWINTER is a leading show, in Italy and worldwide, for the winter sports hire and services sector and therefore CMP deliberately chose this world-class showcase for the official presentation of the new CMP TEAM WEAR range.
Info: www.cmp.campagnolo.it