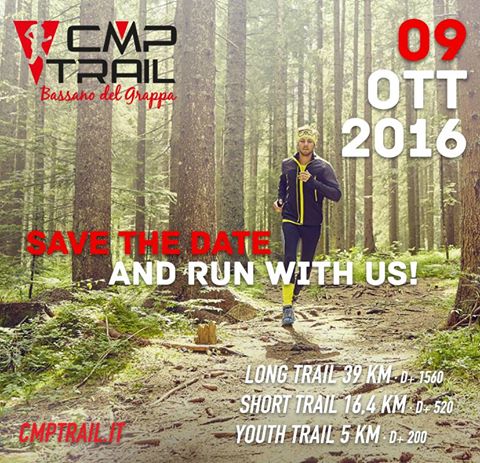 Running on mixed terrain, on trails, tracks or untrodden ground driven by values such as challenge, discovery, freedom, respect, performance and passion… this is the world of trail running. CMP has always loved the outdoor world and life in the open air, and now it has decided to take a further leap into this world, by creating a competitive trail circuit of international calibre.
The first event in this ambitious project will be held in Bassano del Grappa (VI- Italy), on 9 October 2016.
The UNESCO world heritage site Villa Angarano will be the starting and finishing point of the race, providing a venue for the event that will involve not only athletes, but also their managers, followers and other enthusiasts in general.
The event itself will run on hillside trails and mule tracks, some rarely used, deep in the dense woods of Pove, Bassano and Marostica, as well as sections among the vineyards and olive groves typical of the area.
Uneven, stony and muddy terrain, steep inclines amid puddles of spring water and arduous flights of steps will offer a unique opportunity to discover the most spellbinding corners of the Vicenza hills.
"CMP Trail Bassano" will include three parallel races: 
– CMP LONG TRAIL: distance 39 km, height difference 1560 m
– CMP SHORT TRAIL: distance 16.4 km, height difference 500 m
– CMP YOUTH TRAIL: distance 5 km, height difference 200 m
In addition to the 39-km route designed by expert athletes, the 16.4-km race was conceived with the intention of attracting beginners, amateurs and all those interested in having a try at a competition that requires fair physical preparation and above all the desire to put themselves to the test in a splendid natural environment.
The YOUTH TRAIL is reserved for high school students, and the prizes on offer are scholarships, subdivided into four M/F categories, for girls/boys between the ages of 12 and 19 years, for a total of 80 individual awards.
"CMP Trail Bassano" seeks to promote this sport in the local area, and to involve the younger generation in particular.
Looking to the future, CMP's vision is to set out on a journey that will over the years develop into one of the most prestigious competitions on the Italian trail-running scene, gaining international recognition. All that remains to do is to save the date in your diaries: October 9th 2016… we look forward to seeing you all in Bassano del Grappa for the "CMP Trail Bassano"!
INFO: CMP