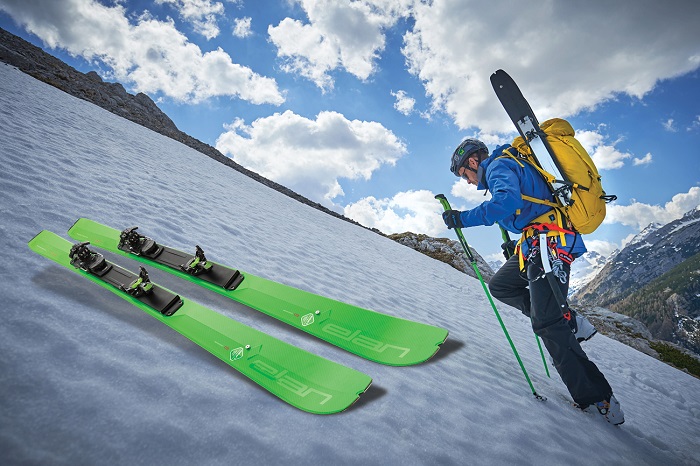 As a result of Elan's commitment to innovation and handcrafting skis for over 70 years, Elan Skis advances the mobility of skis for both ski mountaineering and ski travel with the development of technical foldable skis, the Ibex Tactix.
Traditional ski and winter equipment poses many limitations for easy transportation. For ski mountaineers, traveling across various conditions and mixed terrain from snow to rock with full length skis present challenges when transporting the equipment on a backpack during non-ski touring portions of an adventure, such as climbing up or repelling down steep rocky faces. For destination skiers who prefer to travel with their skis, transporting full-length skis from the car to the bus to the airplane can be cumbersome and space prohibiting.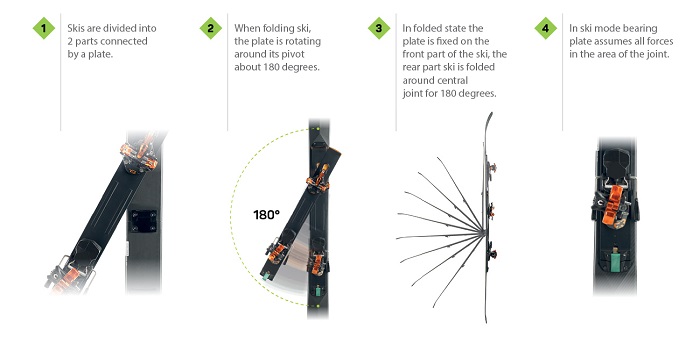 To address the issues, Elan developed the first fully foldable skis. To achieve this design feat, Elan took the traditional backcountry touring Ibex skis, cut them in half and connected them with a revolutionary folding mechanism that is built on a fixed aluminum plate and rotates 180 degrees for ski and non-ski mode. It dissembles a 163cm length ski to a 90cm length ski in less than 20 seconds for easy transport.
The folding mechanism found on the Elan Ibex Tactix is the first of its kind. It's high level of innovation was recognized by Popular Science with a "Best of What's New" award in the recreation category for introducing something that progresses the sport through a new technology for skiers who love to travel or explore. The bindings are powered by G3's Ion 12 tech bindings.
The entire package includes skis, bindings, and skins and weighs in at 5.5kg.
INFO: Elan