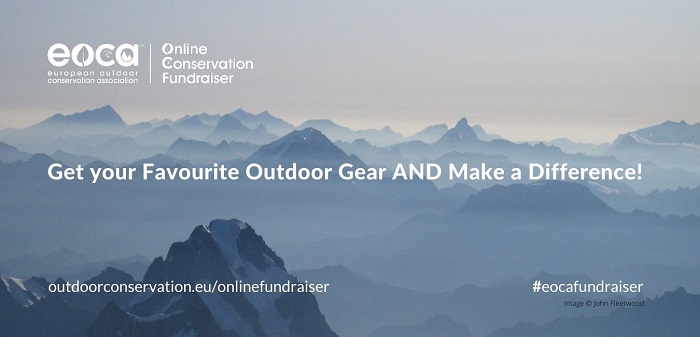 The European Outdoor Conservation Association (EOCA), together with 17 of its members are holding an online Green Friday Fundraiser and it is now live!
In advance of Christmas, the online fundraiser enables customers to purchase gifts for themselves and their loved ones, while at the same time, making a difference by raising funds for conservation work around the world.  The money raised will all go towards vital conservation projects supported by EOCA, including the six most recently selected, tackling plastic pollution in the environment and at source, in Spain, Italy, Brazil, Columbia, and the UK.
Eight members have chosen to raise money for the association through actions on their own websites:
EOCA is very grateful to its partner Outdoor Gear For Good (OGFG), which carries out online fundraising for the association.  OGFG is a community interest company (not for profit) based in the UK.  EOCA is delighted that eleven of its members have sent generous donations for the Green Friday event to OGFG.  These items will be listed on the new OGFG eBay shop over the coming month, with 100% of sales donated to EOCA to put into conservation projects.
Full details can be found at https://www.outdoorconservation.eu/onlinefundraiser/
Joint General Manager Catherine Savidge said, "As we near the end of what has been a difficult year for everyone, we are overwhelmed by the generosity of EOCA members and thrilled to have this opportunity to enable consumers to purchase some new gear for outdoor adventures while raising funds for the conservation of special habitats around the world.  Ending the year with such a positive, collaborative effort, with so many companies involved, reminds us that the EOCA membership remains truly committed to giving back to the great outdoors at all times."
INFO: EOCA