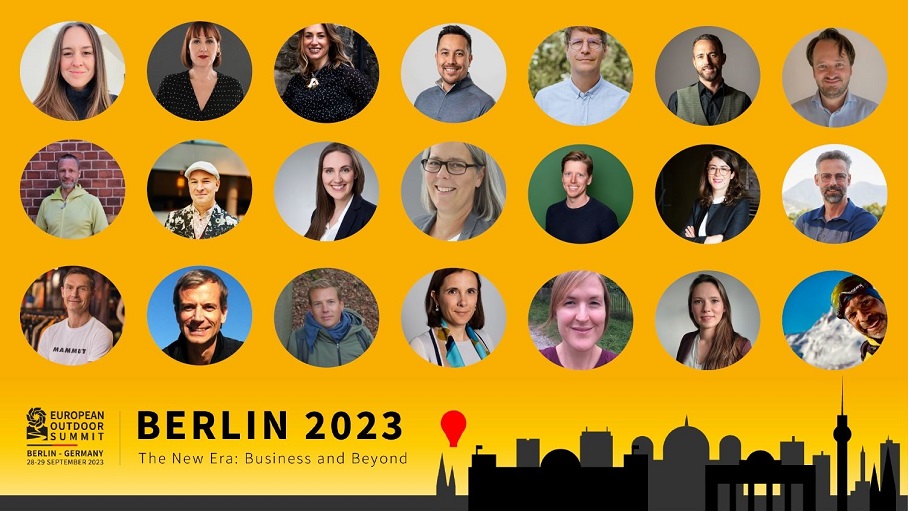 In under two weeks, the European Outdoor Summit 2023 (EOS) will open in Berlin, bringing hundreds of senior figures from the European outdoor industry together for two days. At this highlight in the European outdoor trade calendar, they will gather to network and attend presentations and panel discussions on topics based around this year's theme: The New Era – Business and Beyond. EOS will be hosted at Festsaal Kreuzberg in Berlin on 28th and 29th September 2023, where delegates will spend time with business peers, learning and socialising in a relaxed, collaborative atmosphere.
The New Era – Business and Beyond
EOS topics are always related to industry needs, focusing on current and future economic, technical and social trends, to develop a theme and content that matters to the outdoor industry. This year's summit will stimulate discussion and exploration of the very latest developments in the industry. Delegates will be presented with fresh ideas and innovative strategies, enabling companies and organisations to improve their business practices, and promote sustainable growth and innovation.
The summit has an impressive line-up of speakers, including:
Géraldine Vallejo, Sustainability Programme Director, Kering
Rosa Sommer, Director, Leaders' Quest.
Karla Morales-Lee and Tara PJ Stevens, Co-founders, Warrior Group,
Christian Schneidermeier, CEO, Ortovox,
Richard Payne, Director, Sporting Insights.
Jan Huckfeldt, Commercial Officer, Climeworks under Heiko
Philipp Meister, Global Fashion & Sporting Goods Lead, Quantis.
Between them, they will cover a wide range of topics that are relevant to the whole outdoor sector, such as: 
Learning from the Luxury Sector: A deep dive into biodiversity strategy
Carbon removal – how it is a crucial part of the race to zero!
How to square what's circular: how to connect circularity to your sustainable strategy and measure it right
Minimalism: towards more sustainable and more inclusive outdoor experiences
How to unlock innovation within your organisation through a regenerative people plan
What makes outdoor brands score higher in service and product quality among consumers? Results of an AI based analysis for 30,000 outdoor products
Exploring the trends of the outdoor and sporting retail landscape
Opening Up the Outdoors: fuelling diversity in the outdoors today
Business and beyond: What could be beyond?
Durability from different angles
"No data, no compliance, no business".
Network and Socialise
As well as the extraordinary speakers, on-trend topics and engaging seminars, the summit is the ideal place for networking. It provides a unique opportunity to interact with outdoor industry opinion leaders from across Europe, all together in one place for two days. The social highlight will undoubtedly be Thursday's Networking Evening, immediately after the first day. Delegates can chat informally and enjoy the Festsaal Kreuzberg hospitality, with drinks and a barbeque provided by summit sponsors.
The EOS ticket price of €799 + VAT includes a two-day programme of speakers and panel discussions, lunch and refreshments on both days.
Key sponsors and the Week of Sports
EOS 2023 is sponsored by a wide range of renowned industry partners: Gore, Bleckmann, Dometic, Outdoor by ISPO, YKK, Outtra, IWA Outdoor Classics, Sporting Insights and myclimate. The Summit form part of the "Week of Sports", a group of events bringing together major German brands and linked by their focus on fitness and the outdoors; the Week starts on Tuesday 26th September with the Sport Handels Kongress (Sport Trade Congress), where the focus is "2033 – The future in sight", looking at how we will shop, work and live in 10 years' time. The Week of Sports continues with the BSI Assembly on Wednesday 27th September, the annual meeting of the Federal Association of the German Sporting Goods Industry. Rounding off the Week is EOS 2023 on Thursday 28th and Friday 29th September. Those attending two or more of the "Week of Sport" conferences can also benefit from a discount on their EOS 2023 ticket price.
Those interested in attending can find out more information, and book tickets, at the Summit's website. 


INFO: European Outdoor Summit 2023