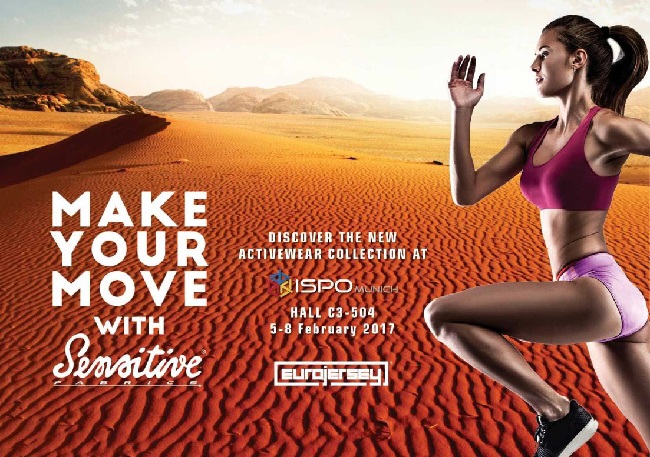 Acclaimed worldwide for the versatility of its technical sports fabrics, Eurojersey is presenting the new SS 2018 Activewear collection at ISPO. MAKE YOUR MOVE is the new concept of Eurojersey's ISPO stand which, with its engaging and revolutionary three-dimensional graphic design, hosts the new Sensitive® Fabrics collections along with a number of iconic garments of elevated technological content.
The Italian company, which leads the market with its versatile Sensitive® Fabrics, is presenting a new display format at ISPO Munich. For the February edition, it has chosen to highlight the value of performance in extreme conditions, not only in its fabric display but also in the three-dimensional setting of the exposition space. A desert landscape is replicated from floor level and projected towards the horizon in an arid natural environment sculpted by the sun, in which athletes' figures dominate the scene, their silhouettes defined by highly technical, breathable and temperature regulating apparel.
The EUROJERSEY stand is an invitation to enter the world of Sensitive®Fabrics and to explore their potential and technical innovation.
Tapes, artfully applied directly onto the flat surface of Sensitive® Fabrics to strategically highlight and support the body muscles, facilitate physical activity even in extreme and normally prohibitive conditions. Technical fabrics of an elevated research content are interpreted somewhere between fashion and performance, combined with the jacquard patterns of seamless jersey fabrics, to give shape to hybrid garments harmoniously poised between performance and aesthetic appeal. Functionality and good looks inspire the new Activewear SS18 collection, ensuring that Sensitive® Fabrics keep their shape perfectly, even after frequent use and washing, and dry in record time. Ideal for all weather conditions, they protect from rain, wind, water and sun rays with their anti-UV action, thanks to the UPF+50 protection factor. Non restricting, they adapt naturally to the body and shape the silhouette with the right support and well calibrated pressure.
Iconic garment display with two different technologies
Protagonists at ISPO on the EUROJERSEY stand, the iconic garments in Sensitive® Fabrics created by two leading manufacturers of sports garments: NTT and CIFRA. A series of key pieces to recount the successful research and development experience of this Italian company in an industry that is increasingly oriented towards extreme sports.
NTT (New Textile Technologies GmbH) uses its innovative patented SensELAST® technology conferring maximum comfort and ease of movement to fabrics, combined with taping, an avant-garde method consisting in the skilled application of tape directly onto the flat surface of Sensitive® Fabrics. The resulting active garments are endowed with extremely sophisticated systems of body mapping, engineered to exert differentiated pressure on particular muscular bands to facilitate performance beyond limit.
CIFRA S.P.A., a leading Italian company, which operates on the market for seamless jersey fabrics manufactured according to the Warp Knitting Seamless® technique, is now able to produce jacquard patterns and exclusive models without seams. The partnership with the innovative quality of Sensitive® Fabrics enables it to develop hybrid garments expressing the maximum technology of circular knitting combined with the technical properties and performance of EUROJERSEY technical fabrics.
INFO: Eurojersey