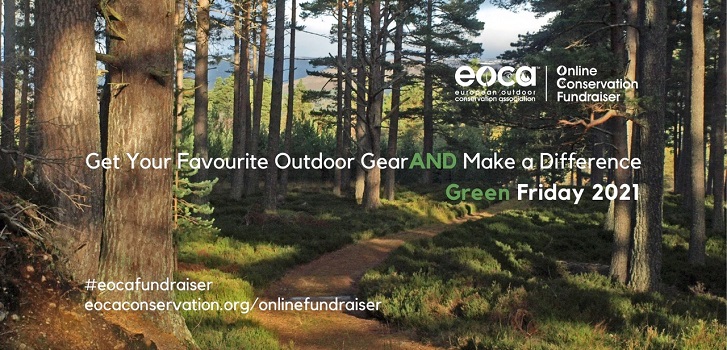 Following on from the success of its Earth Day fundraiser in April, and in light of the growing urgency to reverse the dramatic loss of nature on our planet, the European Outdoor Conservation Association (EOCA) is delighted to announce the launch of its online fundraiser on and around Green (Black) Friday, to raise money for urgent nature conservation projects.
Hot on the heels of the opening of the COP15 summit on biodiversity, the COP26 summit on climate, and the recognition that the two are inextricably linked, there could not be a better time to ensure funds for conservation are not only boosted, but directed where they are needed most. Taking place in the lead up to and over the weekend of Green (Black) Friday on the 26th November, a number of EOCA members have got involved to play their part.
Adventure.ie, AKU, deuter, KEEN, La Sportiva, LESOVIK, Nikwax Germany and Stanley will all be donating a percentage of sales from their websites during the week leading up to, over and even beyond the Green Friday weekend to EOCA, with Deuter, KEEN, La Sportiva and Nikwax Germany raising money for specific projects. KEEN has even run an online vote to ask its fans to help choose which project it should be raising money for.
A number of companies have donated items to Outdoor Gear For Good, a community interest company (non-profit) which collects end of line items, returned or repairable items for sale and to prevent them going into landfill. The proceeds from the sale of these products will go to EOCA and a wide range of products have been donated by BUFF, Lowe Alpine, Nikwax, Ortlieb, Osprey Europe, POMOCA and Trangoworld.
Both Lowe Alpine and Rab are offering 25% of the sales from their newly opened European Service and Repair Centre, from 26th November to 31st December 2021 inclusive, offering repair and wash services to retailers and end consumers in Central Europe.
Finally, Mountain Equipment and OUTTRA have chosen to give EOCA a direct donation to help support the funding of more projects.  If any individual would like to do the same, it is possible to donate to the association's work via the PayPal link on its website. Tentsile will be echoing this request during Giving Tuesday (30th November) on its website – and will be doubling the number of trees it plants over the Green Friday weekend in recognition of purchases made on its website from 20 per hammock or tree tent to 40.
Tanya Bascombe, Joint General Manager of EOCA commented,"Having put more money than ever before into the conservation projects we support in 2021, it is vital that we continue to do whatever we can to continue to fund as much as possible.  The more research that is presented showing the damage we are doing to our planet, the more we must do to reverse that damage and create the conditions for habitats and wild places to repair themselves and function as they need to.  We get around 450 applications from conservation organisations every year and are currently only able to fund around 10, so the more money we can raise, the more vital work can take place.  EOCA is thrilled that so many members have chosen to get involved to help us do this".
For more information about the specific offers and events, please see here.