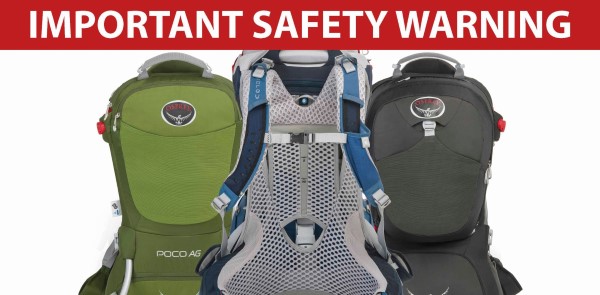 Osprey Europe advises customers to inspect their Poco AG Child Carrier due to a possible buckle failure hazard, which presents the risk of physical injury. Only Poco AG models (Poco AG Premium, Poco AG Plus and Poco AG) are affected and relate to product purchased from 29th January 2016.
All other Poco models (i.e. NON Poco AG) sold between 2012 and January 2016 are not affected.
If you own any Poco AG product, STOP USING IT IMMEDIATELY and conduct your own inspection in accordance with the instructions on this web page www.ospreyeurope.com
Alternatively, if you have any concerns, you can call Osprey Europe on +44 (0) 1202 413920 between 08:30 and 17:00 Monday to Friday or email our Customer Services team at poco@ospreyeurope.com
For more information visit www.ospreyeurope.com and click on IMPORTANT SAFETY WARNING.