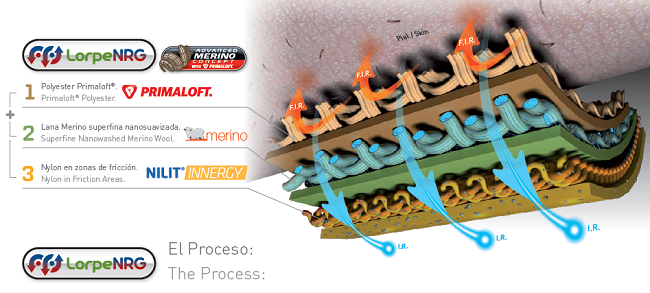 LorpeNRG added to Advanced Merino Concept.
All the FW16 Mountaineering and Wintersport T3 technology styles have LorpeNRG technology added.
The Nylon in the sock that adds resistance and durability to the sock is now "NILIT® INNERGY", which uses the heat created by the body when exercising to convert it in Far Infrared Rays that are reflected to the skin to improve comfort and performance via: better oxygen absorption in blood and reduction of lactic acid generation.
The process:
1. The body creates naturally thermo-energy during activity.
2. The natural mineral inside the fiber converts that energy in Far Infrared Rays (FIR).
3. The FIR are returned to the body for increased performance.
4. Durable and long-lasting. Repeated washing will not decrease the effectiveness of the technology.
INFO: Lorpen