The recent earthquake with a magnitude of 7.8m that hit Nepal on the 25th April, located at approximately 80 kms east of Kathmandu at 3.400 meters altitude, devastated the town and caused the death of thousands of people. Lowa could not remain heartless to this tragedy.
Lowa  a German shoe manufacturer immediately sent hundreds of trekking boots to the grieving population and collected amongst employees the sum of 3.000 Euros which was donated to Nepalhilfe Beilngries e.V. (http://www.nepalhilfe-beilngries.de/en/home/), an humane society that
has been operating in Nepal with the purpose to sustain development.
Some of Lowa ambassadors, such as Ralf Dujmovits, Gerlinde Kaltenbrunner and Hans Kammerlander are mediators in collecting donations in favor of survivors with immediate need of food , water and clothes so to rebuild the towns and the destroyed villages.
Such initiatives are not new for LOWA, in fact last October a donation of 75,000 euros was sent by LOWA for the construction of a new school in Nepal, health services and a water tank in the small village of Sangachok. This operation was possible thanks to the charity evening organized by the LOWA headquarters in Jetzendorf, Bavaria , together with Ralf Dujmovits and Gerlinde Kaltenbrunner, whom in Nepal have surely lived many of their challenges, but have also seen firsthand the extreme poverty of the people of that country.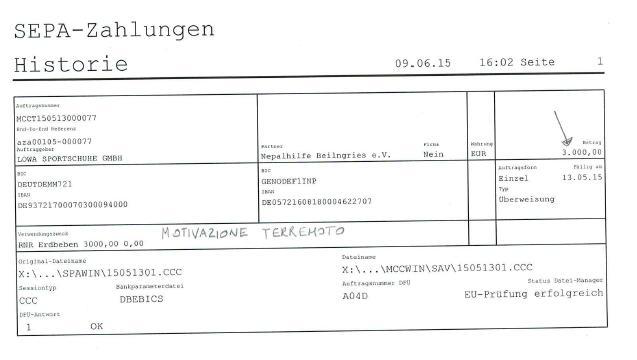 INFO: Lowa