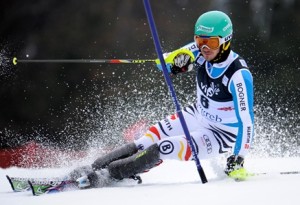 Felix Neureuther, Dominik Paris, Viktoria Rebensburg, André Myhrer: these are the 4 athletes of the white circus who, thanks to their talent and performances, led Nordica to have great results in the most important international competitions.
Thanks to the victories of the racing athletes in 2013, Nordica finished on the first place in the Men's Slalom points classification for Brand Rank: a great satisfaction that rewards the company's commitment to create and invest on innovative and competitive products. 2 medals won at the World Ski Championships in Schladming: Felix Neureuther's silver in Slalom Race, and Dominik Paris's silver in the Downhill.
The firm confirmed its international leadership, the outcome of a great perseverance in innovation and investment in Research&Development. Paris is the rising star: he entered the legend with his victory on the legendary Streif last January, and he finished third in the 2013 Men's Downhill Standings. Neureuther seems to be unstoppable: seven times on the podium, plus the silver medal at the World Ski Championships, a golden season for an athlete who was born with skis on his feet, following his family footsteps. Myhrer and Rebensburg achieved great results during the season, while Fritz Dopfer and Mathias Hargin perfomed good as well. Nordica backed the winning athletes and managed to supply them with the right tools to prove their skills on the slopes. Thanks to all the champions, and full speed ahead to Sochi 2014.
More info: Nordica