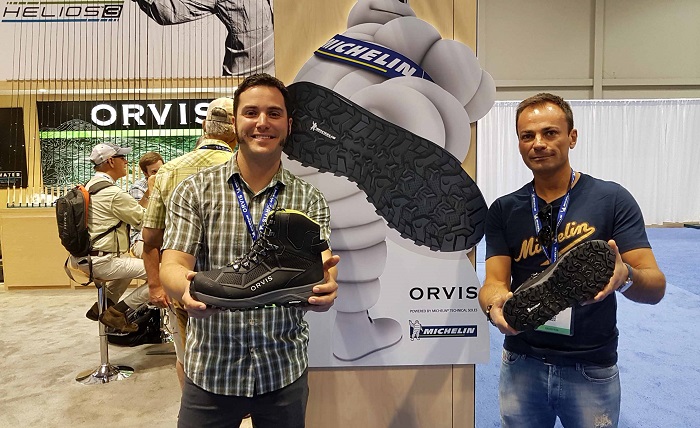 Michelin Soles has entered into a new partnership with Orvis, the world leader in fly fishing, to equip the company's Orvis Pro Wading boot with soles featuring Michelin technologies and know-how, which will offer anglers high grip levels in and out of the water, and excellent durability. The boot has been presented during Icast trade show in Florida, Orlando.
When choosing footwear, fly fishing lovers want optimal wet traction and durability, since the footwear is always worn when practicing this sport. To achieve this, Orvis, one of the leaders in the fishing products market, joined Michelin, which has over a century of 'ground contact' expertise from developing tires. Together they then transferred this knowledge to sole technology, in a team effort to meet these demands. The result is innovative and offers anglers tangible benefits.
The Orvis Pro Wading Boot is equipped with a Michelin sole, made with a compound which ensures excellent grip on dry and wet surfaces. To do this, the rubber is able to mold itself to the ground and offer high grip levels. The tread draws inspiration from the MICHELIN XM27 agricultural tire, which has great flexibility and self-cleaning capabilities. Furthermore, the tread pattern also offers stability and provides shock absorption.
In addition, an industry-first PU-casting construction eliminates seams in high wear areas and drastically improves durability.
Filippo Sartor, Partnership Development Manager at JVI for Michelin Technical Soles said: "It's an honor for us to enter the fishing market with an industry leader like Orvis. We shared our ground contact expertise with the company in order to create a product that brings real innovation and evolution to the sector. The tread compound and design of the sole ensure many exciting adventures".
Jim Kershaw, Product Designer – Fish & Hunt at The Orvis Company commented:  "I'm extremely excited about our partnership with Michelin. Combining more than 285 years of expertise and innovation, we are able to bring something truly ground breaking to the industry. At Orvis we view anglers as athletes, and there is no better partner than Michelin to complete this story".
Michelin has entered the technical soles world with a unique strategic approach: providing customized projects. It means one sole/one story/one brand owner of the outsole. This new approach matches the footwear producers' interests, as they always look for new innovative solutions able to answer the specific needs of their customers. That is why Michelin soles can be found at the booths of prestigious outdoor brands such as Garmont, Hanwag, Hi-Tec, Mammut, Orvis, Quiksilver, Salewa and Under Armour during the most important international outdoor fairs in July: Icast and OR Summer.
The whole idea comes from the 'ground contact' expertise; a concept Michelin has been working on for over a century, and on several fronts: from automotive to agriculture and from aviation to two-wheel vehicles. The French company has an exclusive know-how on the dynamics of contact between a moving object and the ground in all its forms on surfaces including tarmac, rock, ice and mud. Expanding into the out-of-the-ordinary technical soles market has been the natural thing to do, with the aim of creating unique performing models. The search for uniqueness leads Michelin Soles' product specialists to relate differently to each footwear company, introducing innovations which do not usually belong to the 'outdoor' world, but that become a part of it when personalised solutions are needed.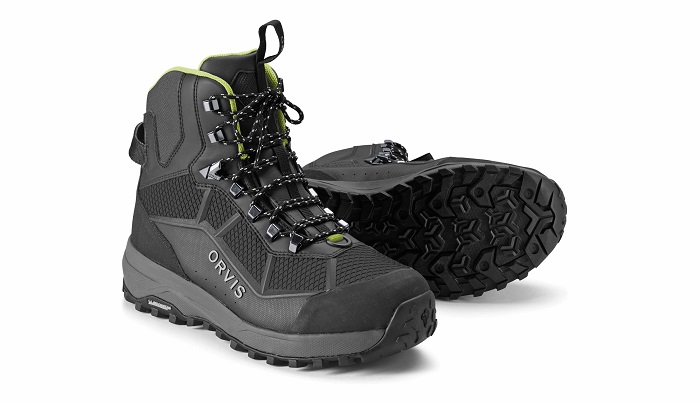 Orvis Pro Wading Boot Product Features:
Industry-first PU-casting construction that eliminates seams
Michelin soles with agricultural tires inspiration
Michelin tire geometry offers a wider footprint for stability, higer ratio of surface contact and
lug pattern that reduces shock
12 strategically placed stud locations
Co-molded ESS plate provides improved stud retention and torsional stability
Shock absorbing Phylon midsole compresses less than standard EVA midsoles
Ortholite 3D molded X25 insole increases rebound and reduces fatigue
Higher cut to provide ankle support lined with an EVA closed cell foam
Scratch rubber at the toe cap and heel
Oversized heel pull facilitates easier on and off
Tightly woven laces reduce broken laces
Weight 50 oz in size 10
Men sizes 7-14
The Orvis Pro Wading boot will be available on the market from March 2019.