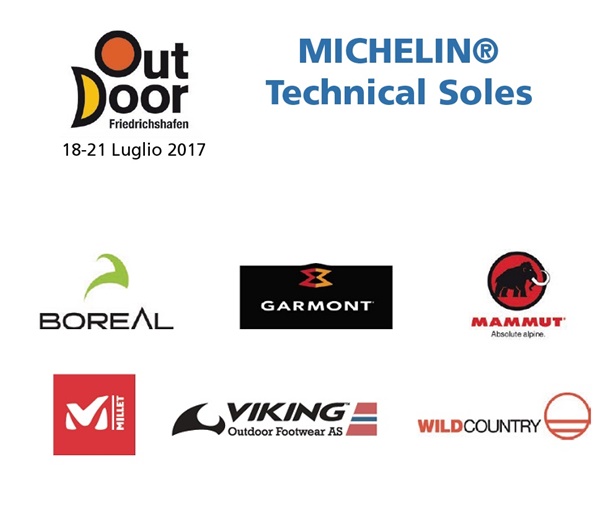 Footwear equipped with Michelin soles for advanced ground control that considers the specific needs of the end consumer and optimizes performance. Each sole is different, created in collaboration with footwear partner manufacturers. Michelin designers, working from the great know-how offered by the experts of the parent company at a global level, adapt the latest technologies, identify the most appropriate technical solution and tyre to inspiration of the creation of a sole that is able to offer different solutions to consumer
needs.
MICHELIN: NEW PARTNERS AT THE TRADE FAIR
Michelin brought much numerous and diverse innovations to this OutDoor trade fair. Collaboration continues in full swing with GARMONT, MAMMUT and MILLET and three new partners have been added: BOREAL, VIKING and WILD COUNTRY. Michelin enters two new areas: the approach and climbing, but its range extends to the creation of real innovative solution now including
midsoles.
BOREAL, the Spanish climbing shoe expert who have been developing and producing climbing and mountain footwear since 1975, is harnessing MICHELIN's innovative expertise to enhance the "approach" range of its Multi Activity collection. Technical shoes for approaches and walk-ins are quite unique. They have to provide support, cushioning and adherence on difficult and mixed terrain, typical features of a hiking shoe, but at the same time offer the performance of a climbing shoe: traction and adaptability on more technical passages. To meet climbers' needs and drawing on Michelin's profound know-how in ground contact, the designers were inspired by the MICHELIN Starcross 5 Hard tyre for motocross. Suitable for all types of terrain, it is equipped with star-shaped sculptures which give excellent traction on straight sections and high reactivity when cornering. The design of the new MICHELIN outsole, made with and for BOREAL on the Shango model, uses the features of this tyre, starting with the massive sculptures on shoulders and on the heel area to offer stability and durability. The distance between each sculpture promotes functional self-cleaning. To guarantee maximum efficiency on difficult surfaces, the special Extreme Outdoor Compound (OCX) is suitable for extreme outdoor activities and adapts to even wet, slippery surfaces, whilst ensuring good durability. The BOREAL Shango footwear, available for men and women, combines progressive traction and adaptability with grip and cushioning, thanks to the MICHELIN outsole. The microfiber upper and injected base provides abrasion resistance, while the interior lining offers comfort and ventilation.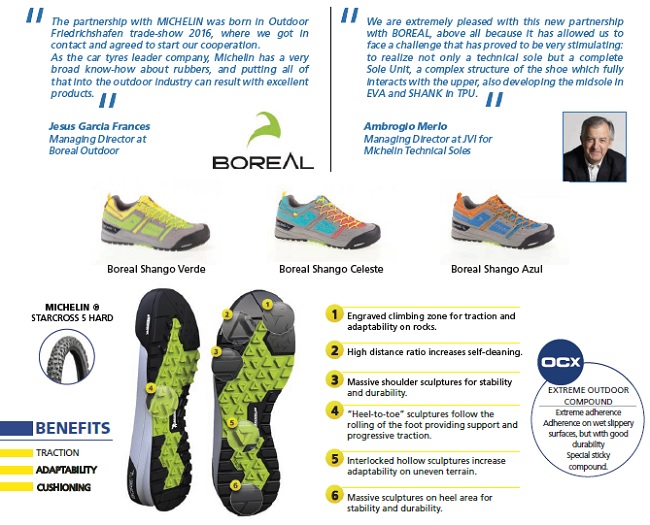 MICHELIN AND GARMONT HIT THE TRAIL TOGETHER AGAIN
GARMONT's partnership with MICHELIN is set to continue with a new innovative project and new models for Spring Summer 2018. On one side, GARMONT's Active Escape collection, which is geared towards a range of outdoor activities, from freerunning to training sessions to fast-paced hiking, will be enriched with three new GARMONT models equipped with MICHELIN Free Cross sole for advanced ground control. On the other side, a new footwear designed for Active Travel, and in particular fans of adventure travel, equipped with MICHELIN Cross Terrain outsole.

The new MICHELIN Free Cross sole was born. It takes its inspiration from the MICHELIN Stargrip bike tyre, designed to deliver perfect traction in all seasons and on mixed terrain. The Michelin designers have developed a tread pattern that ensures traction and support, adaptability and flexibility, cushioning and stability. And thanks to its durable, abrasion-resistant compound, it can master extreme, uneven terrain.
9.81 Grid & 9.81 Grid WMS
9.81 Fast
9.81 Track GTX
ACTIVE TRAVEL: GARMONT TIKAL
MICHELIN AND MAMMUT: A JOINT APPROACH
A modern approach shoe needs to tick a lot of boxes. It has to provide good traction over varied terrain, plus support and comfort. It also has to be as light as possible, yet adapt to a range of activities. To meet these needs, MAMMUT has teamed up with MICHELIN to create its new Alnasca models. They are packed full of clever features and technology for increased support and comfort. Equipped with the new MICHELIN Rock Tech outsole for advanced ground control, they're perfect for situations where you need the grip of a sensitive yet sturdy sole without the usual weight
that comes with it. This makes them ideal for demaning via ferrata, approach and descents when climbing or for bouldering and easier hikes.
The MICHELIN Rock Tech sole is exclusively designed with and for MAMMUT. As the logical next step after the jointly-designed MICHELIN Alpine Lite 3970 mountaineering sole, the new outsole is developed specifically for approach shoes. It is inspired by the MICHELIN NA00 winter rally tyre for its optimum traction. Combining a special tread design with two different Michelin rubber compounds, the shape and configuration of the sculptures provides traction, stability and adaptability to a wide range of terrain – as you would expect to find in the Alps. The climbing zone on the toe features extra sticky Outdoor Extreme Compound (OCX), with excellent friction and the rest of the sole is made with the tried-and-tested Outdoor Compound (OC), which makes it extremely robust and durable.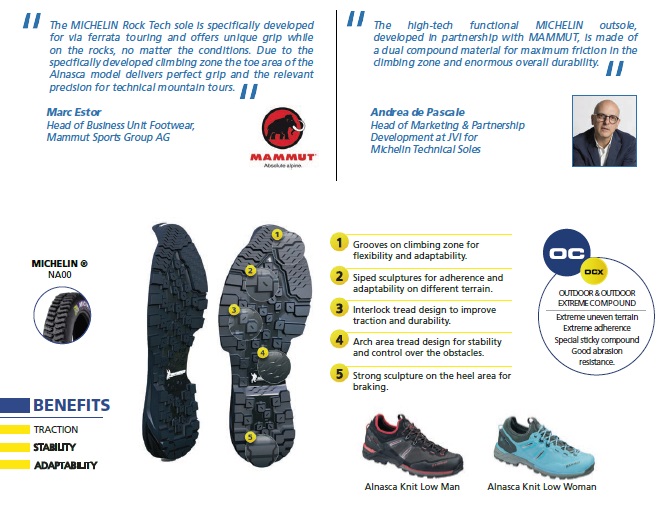 MILLET AND MICHELIN: A VERTICAL CHALLENGE
Following the launch of MILLET's first footwear equipped with MICHELIN outsole, the partnership between the French brand and the experts in "ground contact" continues with Fast Alpine category footwear made for trail running. Trail runners and off-road speed junkies need a lightweight and particularly reactive shoe that offers progressive traction and adaptability to changing terrain. The MILLET Light Rush was specifically developed to cater to their needs. Weighing just 260 grams, it is equipped with a MICHELIN Reattiva sole for advanced ground control, perfect for vertical challenges and short distance alpine workouts.
Michelin has drawn onto its own extensive experience and taken inspiration from its tried-and-tested tyre technology to make a sole that fits the needs of these runners. The MICHELIN Wild Rock'r mountain bike tyre, designed to withstand the most extreme terrain has the required features for being the inspiration of MICHELIN Reattiva. An aggressive tread sculpture for optimum traction and stability for traversing slopes that has been transferred to the outsole tread design. Once the technological aspects were defined, the MILLET footwear team joined forces with the Michelin designers to develop the MICHELIN Reattiva. Made from a durable compound, it offers outstanding stability and good abrasion resistance for extreme, uneven terrain. The tread design is lightweight with progressive traction and adaptability. The outsole is developed to work in synergy with the dynamic, lightweight EVA midsole. And for the upper, MILLET uses its Matryx® fabric, which is made of
particularly abrasion-resistant nylon and Kevlar. This makes the MILLET Light Rush deformation proof, yet highly breathable.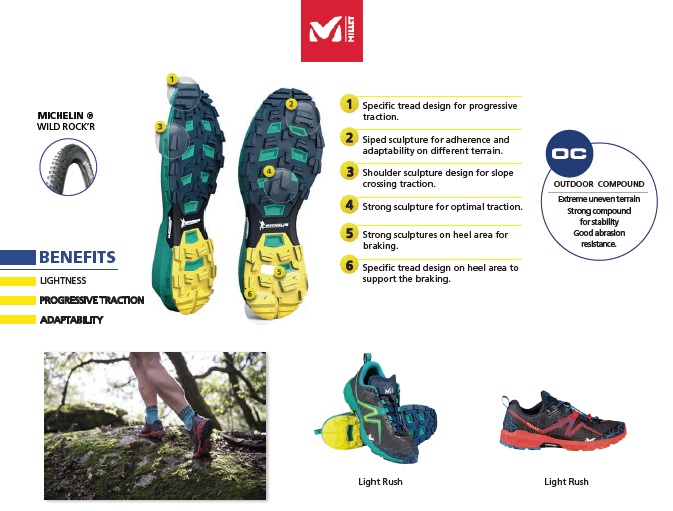 MICHELIN AND VIKING HIT THE SCANDINAVIAN TRAILS
To fulfil these needs Michelin has drawn onto its own extensive experience, tried-and-tested in tyre technology, to develop a sole that offers trail runners and hikers guaranteed high performance and improved ground control. The Invertex Cross and Anaconda Light GTX models exclusively feature the new MICHELIN Woodland sole. It is based on MICHELIN's Wild Race'r mountain bike tyre, designed to take on challenging bike races over tough terrain. Created by the design teams at Michelin and VIKING Footwear, the sole adapts to uneven ground and works in perfect synergy with the upper materials. The special tread pattern provides the same multi-directional grip on dry and wet ground alike and promotes quick self-cleaning. The highly robust Outdoor Compound (OC) used in the sole, is specially developed for uneven, rugged terrain and is highly abrasion and wear resistant.
The Invertex Cross is a trail running shoe that provides extra support. It will be a sporty companion providing excellent traction when beating down trails at higher speed. The integrated gaiter prevents stones, dirt or moisture from getting into the shoe. For speed hiking, the Anaconda Light GTX is the perfect choice, it will offer a secure hike with perfect grip on all favourite trails. With its GORE-TEX® Extended Comfort Footwear technology, there is no such thing as bad weather. In addition, the two partners' expertise meant that VIKING's Ultimate Grip Concept (UGC) could be integrated into the sole. This gives the user markedly improved ground control on trails. Whether it's trail running or speed hiking, Scandinavia's challenging trails and ever-changing conditions underfoot means the shoes you wear need to guarantee consistently high performance and stability. Norwegian footwear company, VIKING footwear, has joined forces with MICHELIN and pooled their vast knowledge to come up with two new shoe models: the Invertex Cross and
Anaconda Light GTX.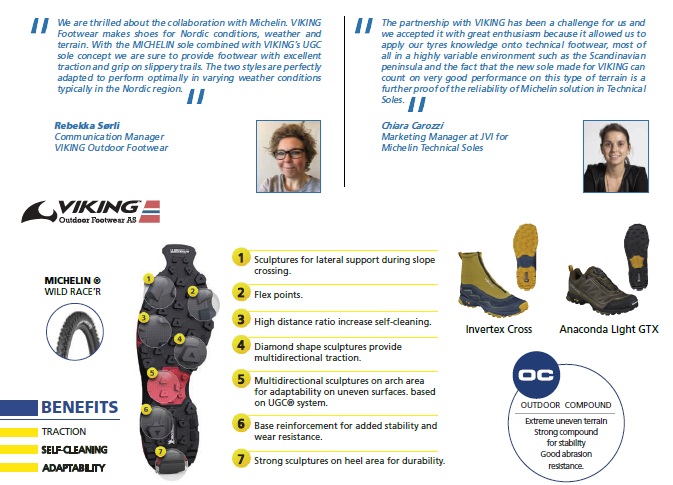 WILD COUNTRY AND MICHELIN CHANGE THE FACE OF CLIMBING
When WILD COUNTRY, the UK company responsible for making climbing equipment since 1977 in the Peak District and maker of the legendary camming device, the Friend and a series of other innovations, joins forces with MICHELIN, experts in rubber compounds and ground contact, the results are always going to be exciting. The Footwear division in Montebelluna teamed up with Michelin expert R&D team to create the first ever WILD COUNTRY climbing shoes: the Parthian and Meshuga. Their mould-breaking designs feature an innovative laminated upper and a revolutionary moulded MICHELIN outsole that work in synergy to support foot biomechanics. A solution that is going to change the face of climbing.
Two issues have always been a key concern for climbers: precision and temperature variation. How can climbing shoes deliver optimal performance even in extreme conditions? Climbers need precision, durability and reliability. Drawing on Michelin's know-how of engineering performance tyres, the HQ experts led by engineer Emmanuel Igier and the design team based in Verona, managed by Trond Sonnergren, conducted special research using dynamic mechanical analysis to identify the rate of decline in sole performance.
The starting point was how to achieve outstanding grip and friction. The tyres that meet exactly these requirements are the ones which Michelin specifically developed for MotoGP. The racing compound technology has been used to deliver advanced control and adhesion, which led MICHELIN to the development of the Formula compound for climbing. Formula Wild is the specifically
engineered compound with and for WILD COUNTRY. Formula Wild guarantees optimum grip, precision and resistance over time.
This solution maintains performance at higher and lower temperatures with an unmatched efficiency from 0 to 25 degrees: i.e. the sole will not soften as temperatures rise or harden when temperatures fall to zero. A further strong innovation that contributes to improving the precision of the shoe is the way the sole is produced. The sole is not cut from a sheet of rubber, but moulded directly onto the upper. This technique makes a 3D sole possible. Therefore, the exact thickness and orientation of the rubber at different areas of the foot can be defined, to provide maximum sensitivity and better friction. In addition, the integrated arch support guarantees stability and torsion resistance. This process also significantly reduces wastage as there are no off-cuts. Furthermore, it also means that if the sole wears out, it can be resoled at the forefoot area with full precision, thanks to a special moulded half-sole. The revolutionary sole compound, design and production process, combined with the innovative upper technology, allows the shoes to keep their shape and performance for longer, without deforming and widening. This is made possible by the patented WILD COUNTRY composite construction which has an elastic layer of PU (polyurethane) laminated inside two layers of microfibre.
Furthermore, no sewing or extra rubber is required, so there are less pressure points.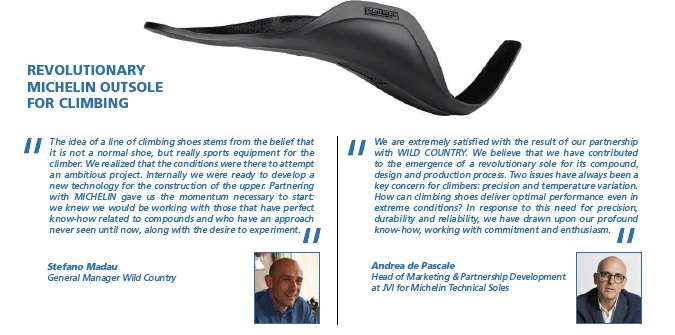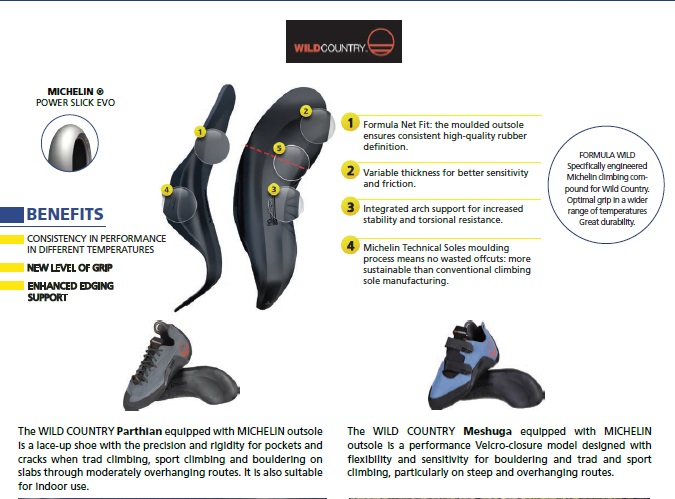 INFO: Michelin soles