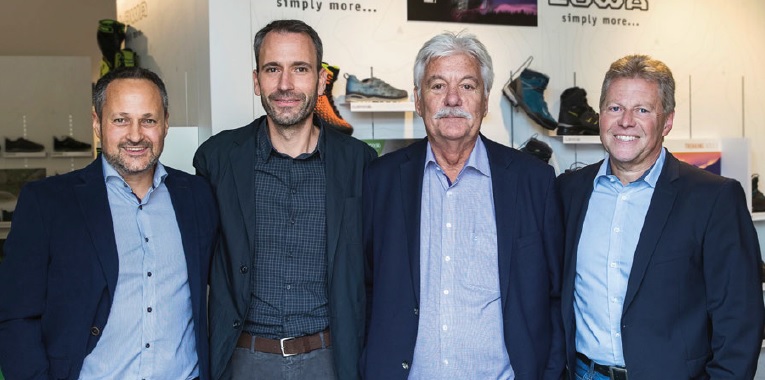 LOWA Sportschuhe GmbH initiates a change in its leadership and expands its team of top managers. On 1 January 2019, Alexander Nicolai assumed the position of CEO and is now directing the outdoor company's business operations. Werner Riethmann will remain on the management team for two more years, but will gradually withdraw from daily operational activities.
LOWA's management team now consists of Alexander Nicolai and Werner Riethmann as Chief Executive Officers, Rudolf Limmer as Chief Finacial Officer, and Matthias Wanner as Chief Sales Officer.
"LOWA is a product company," Riethmann said. "Our footwear is the heart and soul of our success. For this reason, I believe I made the right decision in turning leadership of the company over to our former head of development, Alexander Nicolai." Riethmann has led the company for more than 25 years. He will now serve as an adviser to the management team and focus on selected business areas.
Nicolai became head of Design & Development in 2014 and oversaw the development of the company's collection. "For more than 95 years, LOWA has focused on providing the highest quality, perfect fit and innovative product development," the 43-year-old manager said.
"In the process, LOWA has become a strong product brand. I am looking forward to writing the next chapters in this success story, setting the company's future direction and continuing to expand the brand internationally."
INFO: LOWA