Ortovox and Arc'teryx together to create LiTRIC: an innovative avalanche airbag system that not only sets the latest standard for mountain safety, but it is also one of the lightest electronic airbag technologies on the market. Mountainblog met Patrick Wesch (Product Manager Safety Ortovox) and Julia Reis (Brand Manager Arc'Teryx Equipment) to present two of the backpacks that incorporate LiTRIC technology: Ortovox Avabag LiTRIC Tour 28l and Arc'Teryx Micon LiTRIC 32l Pack. 
Ortovox and Arc'teryx, two global leaders in mountain safety equipment and apparel, have teamed up to develop a boundary-pushing new avalanche airbag technology for Winter 2022 that is lightweight, intuitive and reliable. Made possible by a special collaboration, LiTRIC technology enables both brands to produce airbag systems that weigh just 1100 g and feature an electronic system run by supercapacitors and a long-lasting Lithium Ion battery that hold 60 h of charge for at least 2 inflations. The ORTOVOX AVABAG LiTRIC TOUR, AVABAG LiTRIC FREERIDE and AVABAG LiTRIC ZERO will be available in stores in fall 2022.

"It's been such a unique process to partner with a great brand and competitor like Arc'teryx to rethink avalanche airbag safety for a greater cause. The LiTRIC airbag system is the product of two companies that are maniacally obsessed with building the highest quality equipment and Ortovox's new collection establishes another milestone in mountain safety," says Stefan Krause, Head of Product at Ortovox.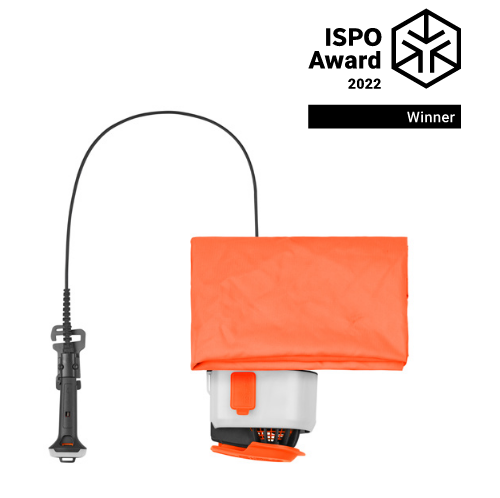 Made in Germany, the LiTRIC airbag system will increase safety by providing at least 2 inflations for at least 60 hours when it is fully charged, making multi-day tours possible with no need for recharging. The system can be tested any number of times at no additional costs and easily charged at home via USB-C. With no cartridge, there's more space for gear and no travel restrictions. The system itself is only 1100g, saving weight with the cold-tolerant supercapacitors and one of the lightest airbag constructions on the market. From the height-adjustable, secure deployment handle to the reimagined safety leg strap, the intuitive design makes LiTRIC easy to operate and simple to pack away. On the side of the pack, the LED display shows the charge state of the system and its readiness for operation.
Ski tourers love the versatility of their sport, from quick training sessions on their local mountain, to high alpine backcountry tours, right through to multi-day ski excursions. AVABAG LiTRIC TOUR is the perfect versatile companion for all the above. The modular LiTRIC airbag base is specifically designed for tourers in two back lengths, regular and short. The pack can be adapted for its intended use with two tour-specific zip-on bags in 28-liter short, 30-liter, 36-liter short, and 40 liters. The lightweight Full Contact Light back system fits snugly to the back, providing a high level of comfort on long tours, and the circumferential zipper to the main compartment offers quick access to the main compartment. LiTRIC TOUR has all the necessary attachment options for skis, snowboards, ice axes, and ropes as well as a helmet net, and space for climbing skins. Additionally, avalanche rescue equipment can be stowed in a separate safety compartment.
AVABAG LiTRIC FREERIDE is designed with freeriding in mind, offering the highest level of safety and comfort in a lightweight pack for riders that are willing to climb the extra mile for the best line. Similar to LiTRIC TOUR, this pack has a modular LiTRIC airbag base, making it a versatile option for short or long days in the backcountry.

LiTRIC FREERIDE can be adapted with the zip-on system in 16-liter short, 18-liter, 26-liter short, and 28-liter. The Clasp Back Technology offers a wide, flexible hip belt and soft shoulder straps while fitting snugly to the back, allowing for complete freedom of movement, hydration system, included soft pocket for goggles and, additionally, the Ortovox Clasp back protector can be included. Also new in the collection is AVABAG LiTRIC ZERO a pack designed for tourers who seek to keep things as lightweight as possible and safe as possible while in the backcountry. At only 1970 g and 27 liters, this technical LiTRIC airbag pack only focuses on the essentials. There is ample packing space for day tours and it is equipped with the important features, like attachment options for skis, an ice axe or poles. The safety gear can be stored in the main compartment. The entire AVABAG LiTRIC collection is climate neutral and PFC-free.

Interview: Serena Dalla Chiusa
Video editing: Mirko Sotgiu.
INFO: Ortovox