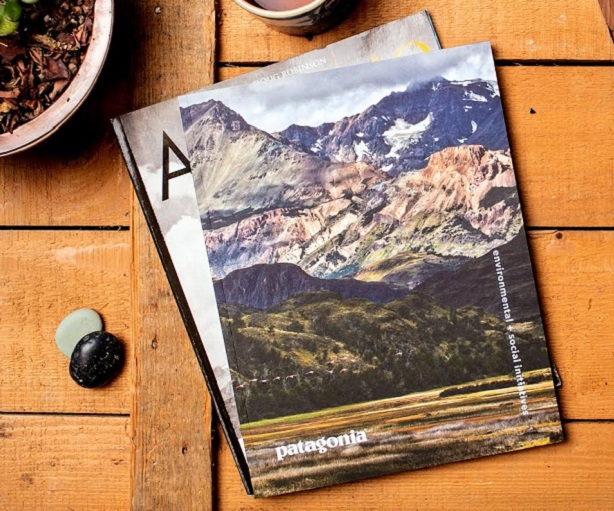 We are guided by a pledge Patagonia Founder Yvon Chouinard made in our mission statement: "to use business to inspire and implement solutions to the environmental crisis". To change the idea that doing business and protecting the planet are diametrically opposed, we use the whole company as a tool for environmental activism. As part of this we donated 100 % of our sales on Black Friday to environmental organizations. The work that could be done with this investment is highlighted in this booklet including the following enviro and social initiatives that Patagonia has supported:
The switch to 100% organic cotton made 20 years ago
Our Worn Wear initiative: our company guarantee all items she is selling with Iron Clad Guarantee. With our worn wear truck going through Europe we encourage people to fix their old gear to extend their life regardless of the brand.
1% for the planet ®: We donate 1% of our annual sales to grassroots environmental groups. Last year alone we donated 7.1 million dollars to fund environmental work across the globe.
Bettering our supply chain through our chemical and environmental impacts program.
Extending our line of Fair Trade certified products: In fall 2014, we offered 10 Fair Trade clothing styles made in a single factory. As of fall 2016, we have 192 styles made in six factories. And by fall 2017 we expect to offer customers some 300 Fair Trade styles made in 13 different factories.
Build a network of activists and campaigns through the new localism platform that uses the voices of athletes and activists to inspire citizens to protect the places they love.
Building on the DamNation movement: We have been supporting a growing movement that seeks to stop the construction of new dams and remove obsolete ones across Europe. On the Balkan peninsula, from Slovenia to Albania, we joined forces with other organizations under the campaign Save the Blue Heart of Europe. We are supporting their demand to protect the last free-flowing rivers in Europe.
Tools for grassroots conference: we hosted the first conference in Europe this year with 43 environmental organizations building capacity in campaigns strategy, communication, fundraising and working with businesses. We published the book "Tools for Grassroots Activists" to help activists learn new skills.
Learn more about the organizations we support on our website or in the link.
Have a good read!
INFO: Patagonia