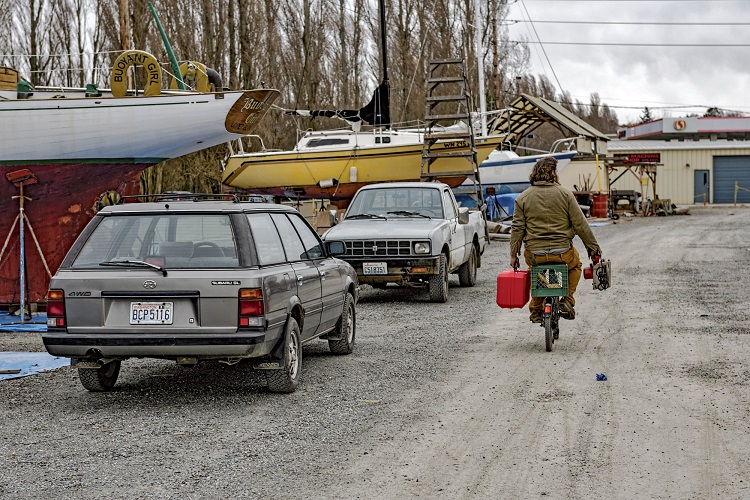 Patagonia is launching a line of workwear made with Iron Forge Hemp™ canvas, a new blend of industrial hemp, recycled polyester and organic cotton that is more durable, abrasion resistant and comfortable off the rack than conventional cotton duck canvas. With farmers, builders, ranchers, foresters and environmental activists in mind, Patagonia set out to build a collection of superior, function-specific workwear that uses less harmful materials and withstands the rigors of the field or the job site.
The Patagonia Workwear line is anchored by Iron Forge Hemp canvas, a heavy-duty 12.9-oz blend of 55 percent industrial hemp, 27 percent recycled polyester and 18 percent organic cotton. Industrial hemp is an incredibly durable fiber that has been used for millennia to make products such as cordage, sails and tackle. Using the long bast fibers that surround the core of the hemp stalk, Patagonia's innovative Iron Forge Hemp canvas is 25 percent more abrasion resistant than conventional cotton duck canvas. The hemp provides toughness and durability; the added polyester and cotton provide a soft hand and a tighter weave. This blend of fibers creates a supple fabric that doesn't need to be broken in and is ready to wear from day one.
"Our Workwear line is built to meet the needs of the men and women who are putting real environmental solutions in place on the ground, redefining what progress really means," notes Ed Auman, Patagonia's business director for Workwear. "The company's early roots in iron forging, our ongoing commitment to conservation and our forward-looking investments in organic regenerative agriculture have us well-placed to build the best product for the folks who require true workwear, backed up by our Ironclad Guarantee."
Manual labor requires the same range of motion as any other self-powered outdoor activity, yet the stretch fabrics used in many outdoor technical garments don't have the abrasion resistance needed for the most strenuous work. The 13 apparel styles in Patagonia's Workwear collection are generously cut for unrestricted movement and have a roomier fit compared to most Patagonia styles, with ample room for layering.
The hemp workwear styles are made in a Fair Trade Certified™ facility, so for every product made, Patagonia pays a premium directly into a fund that workers can use as they choose. The certification also ensures that the garments are made in a way that meets Fair Trade USA's strict standards for safe and healthy working conditions.
In addition to the Iron Forge Hemp canvas styles, the Workwear collection also offers durable, comfortable, utilitarian pieces made with synthetics and natural fibers that provide warmth and protection from the elements.
INFO: Patagonia