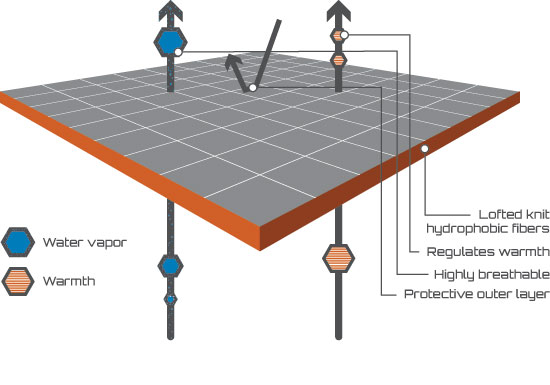 POLARTEC® ALPHA®
Polartec® Alpha® is the latest evolution of synthetic insulation offering a rare combination of lightweight warmth and true breathability in a "puffy" style
garment. Because Polartec® Alpha® insulation is highly durable and more stable than other synthetic insulation products, more open-construction woven face
and back fabrics can be selected to create an air permeable package. This small amount of airflow rapidly draws moisture away from the body and allows
Polartec® Alpha® to be worn in a wider range of activities compared to classic "vapor barrier" style insulation.
Ideal Uses: Polartec®Alpha® is designed primarily as a highly efficient insulation layer for use with a shell in stop-and-go activities where weight and space are limited. When worn alone, they have exceptional breathability and quick dry time, for a remarkably broad comfort range. Excels in back country pursuits like
mountaineering, skiing, and ice climbing.
HOW DOES IT WORK?
Polartec® Alpha® starts with a highly efficient insulation fabric, which is based on the Polartec® Thermal Pro® High Loft technology platform. This technology is
uniquely suited to create warmth without weight, and exceptional breathability, compressibility and dry times via high loft fibers in a low density knit.
It offers a combination of unique performance attributes, vis a vis other synthetic insulations, that are highly valued by an outdoor athlete looking for versatility.
A Polartec® Alpha® garment can be worn in both the "stop" and "go" phases of outdoor activities. Current market synthetic insulations are not breathable
enough to handle the "go" phases of most backcountry pursuits. They are typically additional garments that must be carried for use during static periods.
Polartec® Alpha® excels at providing comfort for users on the move.
A NEW GARMENT DESIGN CONCEPT IN SYNTHETIC INSULATION.
The beauty of the Alpha® concept is the freedom it offers outdoor apparel designers to construct a garment that can be worn over as wide a range of activities
as possible. The Polartec® Alpha® insulation is designed to be sandwiched between two outer fabrics. Because the insulation is highly durable, the fibers are
not prone to "migration" or poking through the face fabrics. As a result, more open construction fabrics that allow some air permeability can be selected. Polartec
® can make referrals for high breathability inner fabrics that pair well with the insulation and maximize its potential. Apparel companies can differentiate
based on the outside fabric choice, precisely dialing in the amount of breathability and stretch desired for the final package. The durability of Polartec® Alpha®
insulation creates more flexibility in garment design and quilting patterns.
POLARTEC® ALPHA® AIR MOVEMENT AND BREATHABILITY
Polartec® has tested some potential garment/fabric combinations to show the possible comfort ranges achieved by different pairings. We have looked at results both in the lab and on our own Athlete Advisory Board. Breathability can be increased by air movement through a garment, that process is called convection. The best way to measure measure breathability in the lab is using a DMPC (Dynamic Moisture Permeation Cell) because it allows us to measure both diffusion and convection of moisture vapor. We have found a high level of correlation between the breathability predicted by this lab tool and the breathability experienced by our athletes in the field. As you can see from the chart (right), choosing a highly air permeable woven for the outer fabric will produce a garment with very high breathability. Our athletes agree that this combination provides comfort for both skinning up and skiing down the mountain. Choosing a low or non airpermeable woven will give the user a high level of weather protection, while the Polartec Alpha components maintain a noticeably breathable, comfortable inner climate. The use of standard "downproof" windproof wovens as package fabrics severly limit the breathability of synthetic insulation.
TECHNICAL HIGHLIGHTS
• Superior breathability to provide comfort in all activities: does not restrict the movement of moisture vapor
• Provides warmth without the weight and bulk of traditional insulating fabrics
• Packable
• Dries quickly to minimize heat loss
• Easy care
• Versatile; appropriate for a broad range of activities as a mid- or outer-layer depending on garment design.
INFO: Polartec