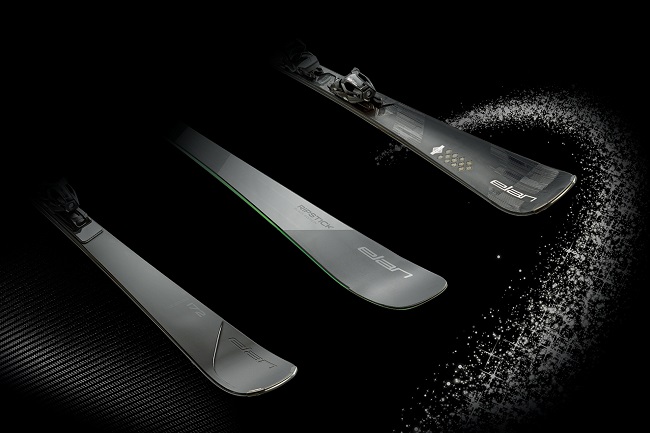 Elan, handcrafting skis 100% made in the Alps for over 70 years, introduces special Black Edition skis to the 2018/19 collection on three models.
The premium, high-end skis feature a sleek, elusive all-black style with a state-of-the-art carbon construction for added value in both appearance and performance.
Elan's Black Edition skis are built upon the same friendly chassis' as the men's all-mountain Amphibio, men's freeride Ripstick and women's Delight models. Each ski gains a carbon upgrade, both internally and externally. A carbon power shell wraps the skis' internal wood core from edge to edge for added performance with more strength and power without adding weight, while the external carbon-finish on the top sheet adds style that stands out on the chairlift and ski rack with distinction.
Built to exceed expectations of the most demanding skiers, the Amphibio 16 Black Edition is equipped with Amphibio 4D technology in addition to layers of titanium and carbon that thrive at high speed and long radius turns on groomed runs.
Amphibio Black Edition:
Dimensions:

 121/73/104

Lengths:

 166, 172, 178

Technology: 

Amphibio 4-D Technology, Dual Ti, Response Wood Frame, Carbon Layers.



The award-winning Ripstick collection is the one quiver solution for those seeking top performance in both powder and hard-packed conditions. Without compromising it's natural talent in powder, the Black Edition upgrade enhances the skis' hard snow performance with the added carbon layer.
Ripstick Black Edition:
Dimensions: 

134/96/113

Lengths:

 167, 174, 181, 188

Technology: 

TNT Technology (Amphibio profile), SST Sidewalls, Vapor Tips, Tubelight Wood Core), Carbon Layers.
The Elan Women's Delight skis are the lightest women's skis in the world. The Delight Black Edition make the light skis fancy with embellished with crystals from Swarovski® for a fashion statement on and off the hill.
Delight Black Edition:
Dimensions

: 125/78/107

Lengths:

 146,152, 158, 164

Technology: 

SlimShape Technology, RST Sidewalls, Tubelight Wood Core, Carbon Layers.
INFO: Elan