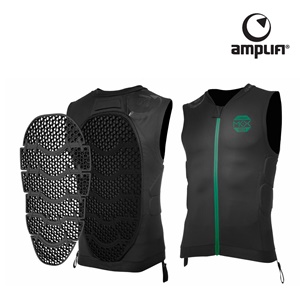 The MKX Top is the next generation of flexible, breathable, high performance back protection for ski & snowboard.
The unique design and HexFlex construction of the MKX Top makes this our lightest, most protective and breathable silicone protector ever – building on our years of experience, extensive testing and rider feedback with similar materials. The huge weight saving and super breathable cell design, combined with a super flexible four way flex ergonomic jacket give a true "second skin" feel – for longer, safer days when you're pushing your limits.
We are moving the concept of protection from an "Exoskeleton" concept to a more form fitting "baselayer" or "second skin" concept, that is a true "Fit it and forget it" product. Movement is absolutely unrestricted when worn – and will truly allow progressive alpine sports enthusiasts to test their limits, and push their riding to the next level.
At AMPLIFI we were unsatisfied with "off the shelf" solutions for back protectors – even so called "soft protectors" are not able to flex in 360 degrees, and are bulky and don't offer top level breathability. We wanted to create a product that feels like a "second skin" baselayer, but gives the safety that is expected of a top level protector.
The specific properties of the silicone based compound used creates a "liquid" feel when the protector is worn, developing the tessellating hex design with our materials engineers,  reduces weight AND allows free movement of air and moisture through the protector – and only 12mm thick! This is the result of 3 years of hard work with our engineers.
Miharo 6+ is a textile based on natural coconut shell fibers. It has anti-bacterial, anti-static, anti-odor water-repellent and moisture-wicking properties and an ultraviolet protection factor of UPF 50. About Coconut Shell Fibres: The basis of MIHARO 6+ is the natural resource of coconut shell fibres. Those fibres have proven to be a leader amongst all other climate control fabrics with their unique characteristics of being a fast growing, renewable source, eco-friendly and a distinguished odor managing function. The blend with Polyester creates a fabric which absorbs odor, is anti-bacterial and works active on moisture regulation for very comfortable and dry.
Available for Men and Women
MSRP 170,- Euros.