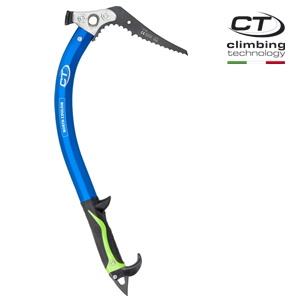 Technical ice axe designed for icefalls climbing and technical mountaineerin on north faces and goulottes. The possibility modulate the tool with various accessories gives it a unique versatility. The lightness and the precise balance makes It suitable for both men and women.
These are the retail conformations: North Couloir Hammer with the Ice blade, the Hammer and the Impact Hammer -North Couloir Adze with the Ice blade, the Adze shoveland the Impact Hammer It is characterized by modular head for adapting the ice axe to all the variou s activities on ice and mixed technical climbing. Equipped with interchangeable Ice blade, foricefalls, with a shaped profile that enables optimal hooking and penetration into the ice; Change Over  that makes switching hands easy, Bumper for support to the hand and discharges weight onto the ice axe, Impact Hammer (supplied unassembled) to increase the weight on the tool head.
The light alloy handle with an anodized finish is characterised by a geometry and length designed to better suit the various morphologies of the ice and the ergonomic moulded handle guarantee great efficiency when used in traction. There's a hole in the steel hook for placing a carabiner and/or the elastic sling.
Accessories and spare parts available: blade for the Mixte mode forwith a pronounced curve for greater accuracy on the rock; blade for the Ice mode; Impact Hammer, Adze shovel; Hammer for placing pitons; Change Over for switching hands; Bumper support for the hand.
Made in Italy.
Weigths: North Couloir Hammer 540 g, NorthCouloir Hammer 530 g.