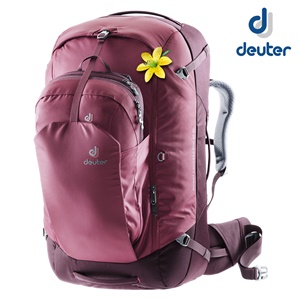 The Deuter AViANT Access Pro 65 SL is a versatile, hybrid women's backpack for big adventures.
The new Deuter AViANT Access Pro 65 SL combines the versatility of a backpack with the practical functionality of a travel suitcase. It features the Deuter Contact back system for carry comfort, as well as padded hip fins and shoulder straps. This travel pack is specifically designed to suit the female anatomy, with narrower shoulder straps and a shorter back panel making it a pleasure to carry, no matter how big the adventure.
The large main compartment is accessed via a robust front zip with lockable sliders. Clever internal organisation, including a separate, removable bag for footwear or dirty laundry, makes it super easy to pack. Internal compression straps hold clothing in place and external ones create a compact load on the back. The laptop compartment and document wallet are easily accessed from the outside. An integrated day pack that stows neatly inside the front stuff pouch is handy for little day trips along the way, or can be carried on your front, attached to the shoulder straps of the large pack, for more storage on big journeys.
The AViANT Access Pro 65 SL features a carry system cover to prevent the hip fins and shoulder straps from getting snagged up during transit. In this mode, it resembles a travel suitcase, and has reinforced grab handles on all sides for convenience.
As well as being extremely functional and comfortable, the Deuter AViANT Access Pro 65 SL is made use PFC-free materials to help protect people and planet.
The Deuter AViANT Access Pro 65 SL is also available in a 55 SL version for women. The unisex Access Pro is available in a 60 L model and 70 L model and all models come in a choice of two different colours.