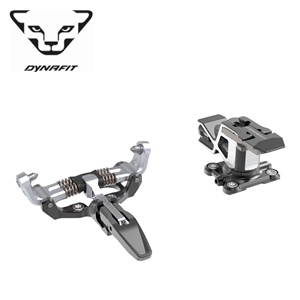 Weighing a mere 150 grams, made entirely of aluminium, and adjustable from DIN 4 to 13: The Superlite 150 is the new reference standard in the ski touring market. In the 2020/21 winter season, DYNAFIT launches a new Speed Binding, the latest in a line of signature products for ambitious ski tourers. Inspired by competitive ski mountaineering, the focus during development was on sgnificant weight reduction compared to the previous model. At the same time, the binding was designed for use in a range of conditions, and to be both safe and durable. The results that the DYNAFIT developers have achieved are impressive: The Superlite 150 tips the scales at an ultralight 150 grams, and scores with its versatility and its adjustability from DIN 4 to 13. This DIN adjustment range gives the binding a unique selling point. It is reliable and safe, and it has excellent power transfer to the ski – ideal both for lightweight ski tourers and more aggressive downhill skiers.
It isn't only the the release values that demonstrate the versatility of the Superlite 150. In addition to the adjustable side release, an optional spring in the front release allows the binding to be adjusted to the skier's individual requirements. The Speed Binding can be mounted without a brake or with a ski stopper with the appropriate mounting plate. Without the ski stopper, the binding has a four-stage riser, and with the brake a two-stage riser is available. Naturally, the Superlite 150 is compatible with DYNAFIT ski crampons, to allow the binding to be used in icy conditions.
Like all DYNAFIT bindings, the Superlite 150 is made in Germany, and comes with a lifetime warranty. The use of exclusively high quality materials ensures strength and durability – the development engineers chose solid aluminium for the heel and toe pieces. To ensure simple boot location, the icebreaker pins were considered to be essential – they clear ice and snow quickly and reliably out of the inserts, which means the skier can be clipped into the binding and ready to ski in seconds. The Superlite 150 stands out as an extremely light, yet at the same time reliable piece of equipment for all environments and for the most challenging snow conditions. The binding represents an ideal addition to the DYNAFIT Blacklight Ski Line, that also debuts on the market in winter 2020/21, aimed at the weight-conscious speed tourer.
THE SUPERLITE 150 AT A GLANCE
· 150 grams
· Z-Value 4 – 13 for side release
· Front release with optional heel spring
· Optional ski stopper and adjustment plate
· Four stage riser without stopper, two stage riser with stopper
· Made in Germany
· Lifetime warranty
· MSRP: 500 Euro.