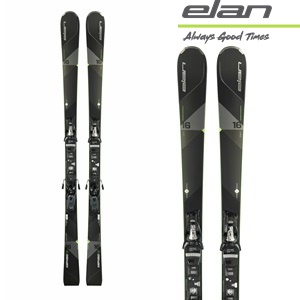 "Please fasten your seatbelt" because the Amphibio 16 is about to take you on the ride of your life. Designed to be the ultimate for groomed snow, this ski is more powerful than a twin turbo and rips long arcs at speed, yet is nimble enough for tight tracks.
A traditional ski category meets a truly revolutionary ski design, one that challenges assumptions and has altered performance expectations in the all-mountain category. The Amphibio series is a diversified collection of versatile high-performance skis that make skiing easier and maximize the experience.
With true technical achievements, the Amphibio series features state of the art 4D technology that redefines not only how a ski works, but also what it looks like as well. From high speed cruising to off piste, and everything in between, the Amphibio series delivers maximum performance for all skier types, from those making their first turns to skiers who charge the entire mountain.
The first ski with 4-dimensional technology, Elan Amphibio 4D works in harmony with our existing Amphibio skis and doubles down on performance.This technology regulates grip, improves turns and adds control on all terrain, in all snow conditions and at any speed. Simply, the most dominating Elan skis ever!
PROFILE: 

Amphibio

TECHNOLOGY: 

Amphibio 4D Technology, Nano Running Base, RST Sidewall, Response Frame Woodcore, Dual Shaped Ti2

GEOMETRY: 

121/73/104

LENGTH RADIUS: 

160(13.3), 166(14.5), 172(15.7), 178(17)

SYSTEM/PLATE: 

FUSION

BINDING: 

ELX 12.0 FUSION.