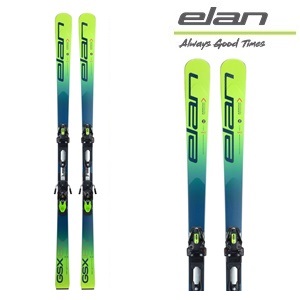 ELAN GSX MASTER Plate Winter 2020.21
The Race line represents Elan's lifeblood. These skis are intended for the most demanding skiers. They are built for skiers whose expertise is already just about perfect, skiers who know what they want from a ski. Skis belonging to the Race class are uncompromising arrows. Regardless of whether you choose skis for ski cross, slalom or grand slalom, you will always get the highest possible level of ski proficiency out of them.
Elan race skis now have a brand new body shape and identity. A synonym for speed, strength and power is the arrow. Arrow technology now drives the Elan Race collection and improves performance.
Giant slalom is the primary skiing discipline and the GSX Master is the perfect choice for GS needs. Arrow technology makes these skis superior in performance by generating power that is transferred to the tip & tail enabling zero response time in any situation, and providing aggressive turning during an entire run. The GSX Master is built with RST Sidewalls, a Response Frame Woodcare, and Dual Ti. This is the choice of ex-racers and expert skiers looking for precise, fast and reliable giant slalom carvers in the toughest conditions. The GSX Master is not a toy and is created for skiers addicted to speed.
Power & Control
The GSX Master has all of the performance attributes of a world cup race ski yet is designed for the master level racer looking to excel in this discipline.
CODE: AABFZX20
PROFILE: Camber
TECHNOLOGY: Arrow Technology, RST Sidewall, R2 Frame Woodcore, Dual Ti
GEOMETRY: 110/69/94
LENGTH RADIUS: 175(19.0), 180(21.2), 182(23.9*), 185(25.1*)
SYSTEM/PLATE: RACEPLATE EVO 14, RACEPLATE WCR 14*
BINDING: ER 17.0 FREEFLEX ST.