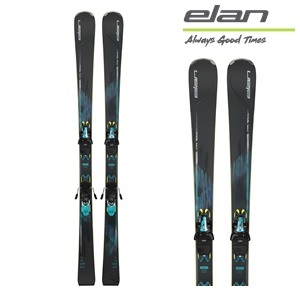 Dedicated to 15 years of lightness. For more than a decade, Elan's W Studio has led the industry in designing skis for all types of women skiers. Beginner to expert, cruising to hard charging, Elan has developed specific light skiing models for every condition. Elan's unique design methodology, which involves a coalition of passionate women skiers from around the world, has produced some of the most prolific models for women over the years, most recently resulting in the creation of Lightskiing and the lightest women's skis in the world. Elan's W Studio collection is driven to design the best, because Elan believes that within every woman is a great skier.
Style, speed, comfort. Ladies. Don't lose sleep over this carver, the Insomia is designed to bring the ultimate levels of long and short turn agility with a forgiving and stable feel to kiss the groomers goodnight.
Amphibio 4D technology. Amphibio 4D technology is the latest evolution in modern ski design. Elan's 4D concept takes traditional layers of material on the ski and strategically shapes them in convex and concave forms on the tip and tail. This dually shaped concept, combined with the Amphibio profile, provides unrivaled all mountain versatility, power and performance.
CODE:

ACCDYK18

PROFILE:

Amphibio

TECHNOLOGY:

Amphibio 4D Technology, RST sidewall, Trulite Woodcore, Dual Shape, Mono Ti

GEOMETRY:

121/73/104

LENGTH RADIUS:

146(11.3), 152(12.2), 158(13.3), 164(14.5), 170(15.7)

SYSTEM/PLATE:

Power Shift

BINDING:

ELW 11.0 SHIFT GW B85.