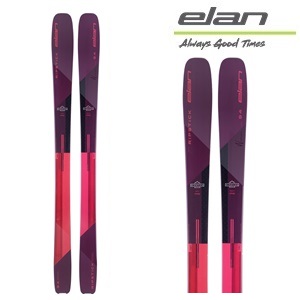 Built for the toughest terrain and conditions, the name says it all!
The Elan Ripstick W collection is the ultimate freeskiing tool for experienced skiers looking to explore new terrain on the back side or go deeper into the backcountry, but we all know that some days calls for cruising the groomers with friends. The Ripstick W personality has traits to please your everyday needs. The collection meets Elan's Amphibio Carbon Line technology elevating the asymmetrical design and tip to tail Tubelight wood core with additional and strategic carbon reinforcements for greater edge grip, while maintaining the ease and precision of perfecting every turn.
Ruler of the Mountain
The Ripstick 94 W is perfect for any adventure; front side, back side, chutes, steeps, trees and even the backcountry. You can trust this ski is the right choice, no matter the conditions.
Ripstick 94 W packs a ton of punch in a considerably lightweight package. It is the ultimate freeride set up for the softest, deepest conditions to the most variable, mixed terrain found on the mountain. Sitting pretty at a versatile 94mm waist, it's wide enough to handle powder, yet narrow enough to rip up the front side. Upgraded with Elan's most advanced asymmetrical technology, Amphibio Carbon Line, carbon rods are inserted into the extremely lightweight wood core for an exceptionally damp and stable platform that is amplified with strategically placed carbon reinforcements over the edges of the skis to power every turn with precision and perfection. Get ready for women specific silky smoothness across the mountain.
CODE: ADFGDR20
PROFILE: Amphibio
TECHNOLOGY: Carbon Line Technology, SST Sidewall, TubeLite Woodcore, Carbon Rods, VaporTip, Fibreglass
GEOMETRY: 136/94/110
LENGTH RADIUS: 146 (13.2), 154 (14.0), 162 (15.0), 170 (16.2), 178 (18.0)
WEIGHT: 1570g +/- 50g (170)
SYSTEM/PLATE: Flat
RECOMMENDED BINDING: ATTACK2 11 GW W_O BRAKE.