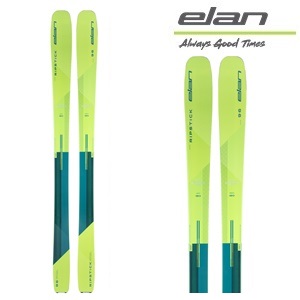 Built for the toughest terrain and conditions, the name says it all!
Designed and built to handle the most challenging terrain in any snow condition the mountain can dish out, the Ripstick series is the ultimate Freeskiing tool for demanding skiers. Constructed with a progressive shape and NEW Amphibio Carbon Line technology to maximize weight savings and stability, the Ripstick delivers uncompromised versatility and smooth performance. With the addition of the Amphibio profile, Carbon Rods, and SST sidewall construction for power and precision, the Ripstick floats like a butterfly and springs like a ski.
Peak Performer
Praised by magazine testers and professional skiers alike for it's unique blend of lightweight performance, the Ripstick 96 is proven to be the ultimate freeride ski in all snow conditions.
If a smoothness indicator existed for skis, the Ripstick 96 would be off the charts!  It is a true freeride ski that doubles as an all-mountain ski for those who want ultimate versatility on the mountain. It utilizes Amphibio Carbon Line Technology for dynamic power and precision and a re-shaped tip and tail taper design make it a perfect choice for every day, every turn shape, on any surface. It's wide enough to handle powder, yet narrow enough in the waist to grip and rip on the front side. With Amphibio profile for exceptional maneuverability and edge grip, SST sidewalls for direct power transmission, and Amphibio Carbon Line technology for stability and ease at any speed, the second generation of this multiple award-winning ski provides a silky-smooth ride no matter where your mountain exploration takes you.
CODE: ADCGDF20
PROFILE: Amphibio
TECHNOLOGY: Carbon Line Technology, SST Sidewall, TubeLite Woodcore, Carbon Rods, VaporTip, Fibreglass
GEOMETRY: 136/96/110
LENGTH RADIUS: 164 (15.1), 172 (16.2), 180 (18.0), 188 (19.5)
WEIGHT: 1650g +/- 50g (180)
SYSTEM/PLATE: Flat
RECOMMENDED BINDING: ATTACK2 13 AT W_O BRAKE.