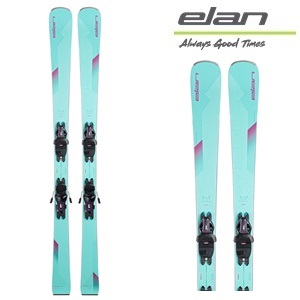 The ultimate companion for confidence and adventure
Design by women, the line is built to optimize and enhance the energy and performance of the female skier in any condition or terrain. As the closest bridge to the Ripstick W collection, the Wildcat fuses Elan's award-winning technologies, including the most advanced asymmetrical ski design for women- Amphibio Truline W Technology- with a fresh take on all-mountain skiing. By taking a modern approach to all-mountain skiing, the Wildcat takes on a new territory with finely selected wood cores on slightly wider chassis' that host lightweight, structural carbon constructions for efficient energy transfer and perfection in every turn. The Wildcat was made just for you; to create good times anywhere on the mountain together.
Effortless ease, super-powered with confidence
Ideal for effortless all mountain carving and cruising, the Wildcat 76 has the power to expand your limits by inspiring you with confidence & ease through every turn.
Profoundly light, yet uncharacteristically strong, the Wildcat 76 is an impressive engineering feat as one of the lightest skis in the world. The maneuverable, narrower ski with quick edge to edge performance features a lightweight wood core and Amphibio Truline Technology, an advanced asymmetrical design to match the movement of the skier with optimal balance, thus leading to the perfect turn. The versatile set up is complete with the Power Shift bindings for the best flex while maintaining an overall light weight for a smooth and confident skiing experience.
CODE: ACUGKE20
PROFILE: Amphibio
TECHNOLOGY: TruLine Technology, SST Sidewall, Laminated Woodcore
GEOMETRY: 127/76/104
LENGTH RADIUS: 144(10.1), 150(11.5), 158(13.9), 166(14.4)
SYSTEM/PLATE: Light Shift
BINDING: ELW 9.0 GW SHIFT BLK/PURPLE.