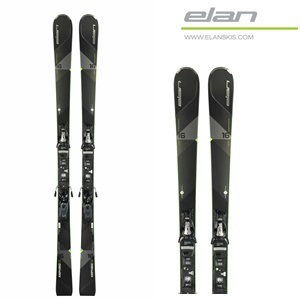 The Elan Amphibio 16 T12 leads the pack for the new 2017/18 series, featuring Amphibio 4-D Technology which regulates grip, adds control and enhances overall performance through four dimensions of the ski: front, back, left and right.
Beginning with a rocker and camber profile that influences a dedicated left and right ski design, the cambered inside edge provides edge grip and stability while the rockered outside edge provides quick turn initiation and smooth transitions. On the front and back of the skis, a dual-shaped titanium is applied to create a convex shape in the front of the ski for precise entry into a turn with strong edge pressure, while the concave shape in the rear of the ski allows the skier to quickly exit and control each turn.
The 4-Dimensional design with a dual-shaped titanium construction not only increases the torsional stability of the ski but also reduces weight by 10 percent and vibrations by 30 percent.
The Elan Amphibio 16 T12 is fully equipped to meet the demands of ripping long arc turns to keeping tracks tight and quick with exceeding performance and energy.
Geometry: 121/73/104
Lengths (Radius): 160cm (13.3M), 166cm (14.5M), 172cm (15.7M), 178cm (170M)
Binding: ELX 12.0 Fusion.