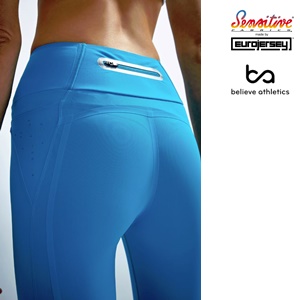 BELIEVE ATHLETICS: elegance, femininity, excellence and quality in Sensitive® Fabrics.
Aesthetics and performance. Believe Athletics is a feminine brand with unique designs that boost the female figure, made with high-tech Sensitive® Fabrics .
Nowadays, design in the female sportswear arena is essential. The rise of women's involvement in sports, has created a shift in their wardrobes. Sportswear clothing is gaining importance in women's day-to-day attire, and these demanding consumers are interested in functional yet stylish garments. A big leap from the old masculine-inspired patterns with rigid lines and simple designs. Believe Athletics is the perfect balance between sportswear and elegance, offering quality and performance. A sportswear fashion brand that encourages women to live active lives, enjoy their favorite activity and fall in love with their bodies.
Believe Athletics first Training collection stands out for its multi-pocket garments, the use of bonding, lasercut and reflective elements, thanks to ultra-flat surface of Sensitive® Fabrics .
"We decided to work with Sensitive® Fabrics because we envisioned a customer that valued not only high quality and high performance, but was also a responsible buyer highly conscious about the environment. Sensitive® Fabrics offers a range of unrivalled fabrics in terms of look and performance and a very diverse and sophisticated colour pallettes that perfectly suit our design needs." – Cit. Regina and Marisol Founders of Believe Athletics.