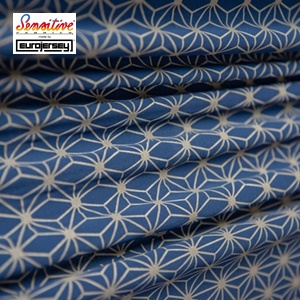 A leading manufacturer of technical sports fabrics, the Italian company presents the fruit of its Research and Development activities at ISPO, thanks to a collection of Sensitive® Fabrics printed with bioceramic, a mixture of non-toxic mineral oxides destined to revolutionize sports textiles.
Already renowned for their ability to adapt to the body shape, movements and performance in any situation, Sensitive® Fabrics are now further enhanced by the application of ceramic nanoparticles, to create uniquely performing, technologically advanced fabrics, which are ideal for enjoying sports activities in perfect safety and freedom.
The bioceramic printed onto Sensitive® Fabrics enables the emission and reflection of infrared rays. Body heat is absorbed by the fabric weave and then released in the form of infrared rays which penetrate the subcutaneous layers, stimulating the microcirculation system and reinforcing the metabolism, which results in a number of benefits for the human body.
The bioceramic paste printed onto Sensitive® Fabrics helps intensify performance, by acting on the neurovegetative system and conferring an effect of bioenergetic equilibrium, oxygenation and detoxification, as well as reducing lactic acid through an acceleration of muscle recovery.
Multiple tests have been carried out on some athletes who have been wearing garments made of Sensitive® Fabrics with bioceramic print. Innovative technical outfits which facilitate safe movements in all sports activities, by reducing fatigue, alleviating stress and stimulating the activity of the immune system. A synthesis between performance and fashion, backed up by the use of avant-garde technologies, Sensitive® Fabrics sculpt the figure and adapt naturally to the body shape, also thanks to the fact that they do not crease or pill, while providing correct support, breathability and lightness. Ideal for activewear, pilates, Thai Chi, yoga and loungewear, they also offer permanent anti-odour and antibacterial properties.
Machine washable and appreciated for their shape retention, even after frequent washing and use, and renowned for being quick-drying, these fabric properties remain unaltered even after bioceramic printing, with a further advantage: regeneration in the course of time.