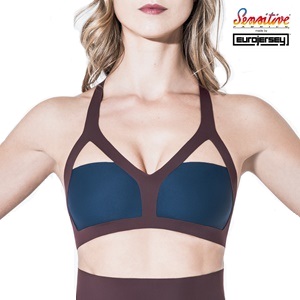 Soft Sports bra in Sensitive® Sculpt Light with contrasting SensElast Bonded support bands.
Sensitive® Sculpt Light is the innovative technical fabric best suited to shapewear, sportswear and swimwear. With high compression power and unparalleled lightness, Sensitive® Sculpt Light guarantees perfect fit and maximum freedom of movement, ensuring absolute comfort. The elasticity of Sensitive® Sculpt Light is particularly suitable for garments that shape without binding, following the body's natural line. The fabric stands out for its ability to sculpt a harmonious and balanced silhouette, while providing a pleasant feeling of wellbeing.
Lightness combined with support and extraordinary comfort offer unrivalled features as yet not provided by any other fabric in its category.
It is characterized by excellent fit and shape retention, and combines effective shaping with maximum comfort.All this makes for garments that are pleasant to wear, cool and breathable, but at the same time structured, sculpted and highly technical.
The ultra-flat surface of Sensitive® Sculpt Light enables the adoption of the latest processing techniques, such as contouring, ultrasounds, laser cutting and heat-sealed taping to create a body-mapping effect and provide a perfectly flat and uniform look. The resulting garments reflect a new identity marked by Functional Comfort, which in turn is synonymous with freedom of movement and elegant, sculpted lines. High elastic memory and shape recovery permit utmost stretching in all directions. The compact knit and the particularly thin, smooth and low friction surface result in an exceptionally strong hold with the lightest feel.
Sensitive® Sculpt Light features:
COMPRESSION: high compression power for improved performance.

SHAPING: shaping fabric of unrivalled lightness.

SUPPORT

: three-dimensional elasticity ensuring the right support.