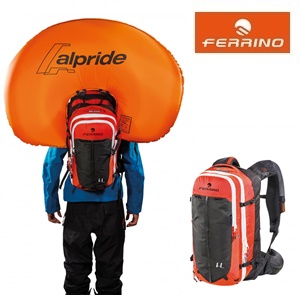 New New entry in the Ferrino Safe Collection, the FULL SAFE 30+5 it's the unique backpack for winter use equipped with 3 safety devices in case of avalanche, therefore integrating in a single product all the best technologies for winter hiking safety: the new system Airbag Alpride E1, which is enriched with a building unit fully electric, integrated with AIR SAFE respirator and the RECCO reflector.
For its unique characteristic on the International market, the Wilderness Medical Society recommends its use on the last guidelines published on Wilderness and Environmental Medical Medicine in order to prevent and handling avalanche accidents.
"The potential benefit of tandem use could be significant as they complement each other by targeting different aspects of avalanche survival"*.
What are the peculiarities making the new Ferrino Full Safe 30+5 a unique backpack?
Alongside obligatory safety equipment (shovel, probe, arva), our system provided with 3 security systems increases the probability of survival in case of avalanche:
The AIR SAFE allows you to breathe in case of burial in snow
The AIR BAG prevents injury and helps you to float on the snow if hit by an avalanche
The RECCO Reflector increases the possibility of being found in case of accident.
The inflating System fully electric, compared to the traditional-one, guarantees performances between
-30° and +50°of temperature, it recharges easily, it inflates quickly and not needing to be provided with extras cartridges it can be re-inflated as many times as you
need without any extra costs. The very result of it is, you are given the opportunity to test it out or use it different times even in the same hike. Moreover, being a passive electric device such as a camera, it can be boarded on a plane without restrictions.
Which have been the Medical collaboration in medical field?
The high level of safety provided by this backpack as remarked by the Doc. Federico Prato, Reanimation Medic of Mountain Medicine Unit of Aosta: "with its correct use the Artificial Air Pocket Device by Ferrino (Air Safe ndr) you can survive the asphyxiation, which causes more than 75% of death by avalanche, allowing the
person to breathe underneath the snow for periods of time even longer than an hour, preventing re-breathing of carbon anhydride, giving appropriate time to the rescuers to intervene".
As result of more than 7 years research on avalanches effects, FULL SAFE was the Device chosen from the Eurac Research Institute of Bolzano and from the Mountain Medicine Unit of Valle d'Aosta by a physiopathology study on victims of avalanches realized in collaboration with the Department of Biomedical Sciences of Padua University and together with CNR of Milan.
From this season on, it will also be available a backpack version, specific for Italian National Alpine Cliff and Cave Rescue Corps, able to involucrate the technical-healthcare needed for the avalanche rescues, becoming a real and effective Self Protection Device.
TECHNICAL DETAILS
Weight: 3,2 kg
Dimensions: 53 x 30 x 27 cm
Certified in compliance with EN16716:2017
Air Bag volume: 150 l
Inflation time: 3 sec
You can take it on a plane with no restrictions
Fabrics: Double Nylon Cordura ® • Reinforcements in Reinforced Laminated Fabric.
Pockets: Front pocket with gear loops, designed to carry technical gear (ice axe, crampons, carabiners), and self-help kit (shovel and probe) and extendible (+5 lt) • Double security pocket • On waist belt • Mask pocket.