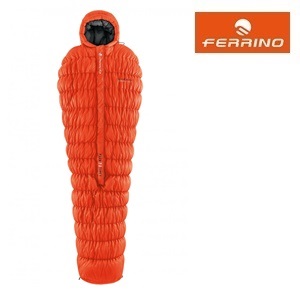 This goose feather sleeping bag from the High Lab line has excellent thermal efficiency and is suitable for winter expeditions thanks to the WTS system (welded external seams) which cut heat dispersion to a minimum. The front zip opening and the internal channels with Stretch construction improve the comfort of the sleeping bag allowing you to move more freely with 15% more space available.
The heat insulation of the sleeping bag has been improved following the restyling and the extreme temperature bringed from -40°C to -45°C, making the product even more performing with a minimal difference in weight compared to the previous version (+50 grams). The woman comfort zone is at -13 degrees and the man comfort zone at -22 and the extreme values are between +15 and -45 degrees. These values were obtained from laboratory tests in accordance with European standards EN 13537 2012 and EN ISO 23537-1: 2016.
Ferrino has recently obtained the certificate of conformity RDS (Responsible Down Standard Certified), ensuring that the down and feathers used have been obtained from animals that have been treated in a way that did not cause them pain, suffering or distress during the whole production chain: from farming to the
collection and processing of feathers, to the manufacture of items.
TEMPERATURE: All of our sleeping bags are tested to EN13537 2012 and EN ISO 23537-1:2016 European standards by an independent textile research body. A
special mannequin, fitted with sensors, is inserted into the sleeping bag and identifies the optimum user temperature according to the temperature of the environment.
TECHNICAL DETAILS:
DIMENSIONS: 220x85x60 cm
COMPRESSED BAG DIMENSION: 25×40 cm
WEIGHT: 1,9 Kg
FILLING: 1200 gr Extradown 95/5 800 cuin
EXT. FABRICS: Nylon 20D 380TMini Ripstop
INNER FABRICS: Nylon20D380TMiniRipstop.