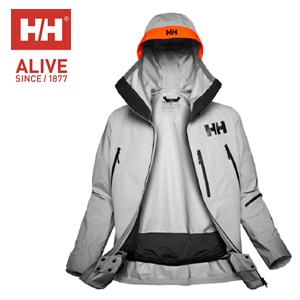 Ispo Gold Award 2020!
The hardest charging athletes and hardest working professionals have trusted Helly Hansen to keep them protected from the elements for over 140 years. With a focus on innovation, the Norwegian-based brand has pushed the outerwear industry forward with new technologies to meet the evolving needs of professionals and to preserve the environment they live and work on everyday. For Fall/Winter 2020, the ULLR collection puts the brand's innovative technologies to use in the new ELEVATION INFINITY SHELL JACKET.
Featuring the first-to-market LIFA Infinity Pro™ technology, the ELEVATION INFINITY SHELL JACKET sets the new standard for responsible, waterproof, breathable gear. A feat of advanced textile engineering, the new technology is built from a three-layer fabric construction using Helly Hansen's proprieraty LIFA® technology, which offers inherent durable water repellency without chemicals. Combining the new LIFA Infinity™ membrane, which features a highly breathable unique microporous structure made in a solvent-free process, with a lightweight outer fabric made with 100% LIFA® fiber that keeps the wearer dry and comfortable, this new technology offers consumers the superior choice for high-performing, waterproof, breathable gear.
LIFA Infinity Pro™ garments are durable, easy to care for and reduce energy usage by not requiring tumble drying to reactivate water-repellency. The ELEVATION INFINITY SHELL JACKET is also solution-dyed, which eliminates harmful wastewater and keeps the garment fresh so you can wear it day-after-day. Additional features of the jacket include the brand's iconic hi vis hood brim for added safety and a Life Pocket+™ that keeps your phone alive longer and keeps you connected on the mountain. The ELEVATION INFINITY SHELL JACKET and the rest of the updated ULLR collection will be available in-store and online in Fall 2020.