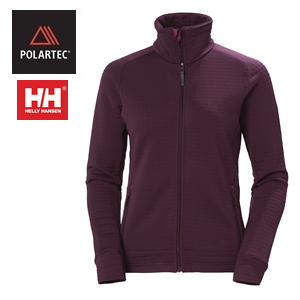 Power Air: Polartec's new fabric technology is a revolution in sustainability. By encapsulating lofted fibres within a multilayer, continuous yarn fabric construction, the revolutionary new Polartec Power Air fabric offers advanced thermal efficiency that is proven to shed at least five times less than other premium 'mid-layer' weight fabrics. This ISPO Polartec will be launching a lighter weight version of this game changing fabric.
Insulation that effectively regulates core body temperature has traditionally been achieved via lofted or high-pile knit structures that hold warm air. Although Polartec is a leader in making resilient materials, it has recognised that any exposed fibre is susceptible to shedding as a function of normal wear. The Polartec Power Air construction process mitigates this by encasing the insulating lofted fibres within the knitting process.
"It's a great product to look at – the aesthetics are phenomenal. Brand adoptions in the outdoor sector include Helly Hansen, 66 North, Montura and Millet just to mention a few" says Steve Layton, Polartec CEO. "We describe the fabric as looking like bubble-wrap and it can be worn with the inside out or the outside in. From a designer's point of view – they will definitely dig it. It's stylish and you have the sustainability angle, the fact that it's fully recyclable and made from 73 per cent post-consumer plastic waste."
Helly Hansen Power Air collection: Polartec's revolutionary Power Air fabric is the star feature of Helly Hansen's new Power Air collection for 2020. Shedding at least 80 per cent fewer microfibres than other mid-layers, Power Air is an environmentally forward-thinking sustainable fleece fabric. Helly Hansen's Power Air Heat Grid Jacket offers light and stretchy insulation. This highly durable fleece jacket resists piling and features Polartec's dual surface construction for efficient wicking and breathability.