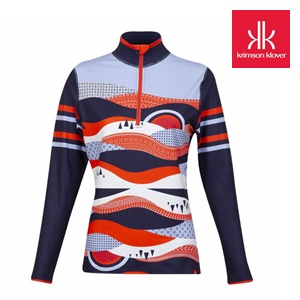 Krimson Klover is an inspired clothing company created by women, for women who live boldly through travel, adventure and outdoor sports. Rooted in the Rocky Mountains of Colorado, we believe fashion should be luxurious and sophisticated yet fuss-free.
Krimson Klover Founder Rhonda Swenson shares her inspirations for the 2019 collection.
"This season we are holding tight to the legacy of the alpine skier's timeless style," says Rhonda. "We've expanded our successful vintage inspired base layer collection. Each unique piece features original artwork from a Colorado artist, with a modern twist on retro ski fashion."
Constructed from new mid-weight polyester/spandex performance fabric that has a brushed back providing comfort and warmth, the pieces are designed to be worn year-round as a first layer. All base layers feature 4-way stretch for movement, flat seam construction for durability, and chafe preventions and moisture-wicking to keep you dry and warm.
While the fabrics are new, the inspiration is age-old.
"We've added more one-off, vibrant designs inspired by Nordic folklore, Peru and our very own Rocky Mountains," says Rhonda.