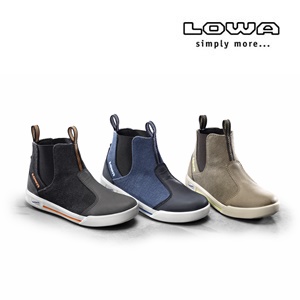 As flexible as a kid's expectations.
Children can hardly wait sometimes to finally be all grown up. With the new slip-on boots LIAM QC by LOWA, the long wait will be just a little bit shorter by a few seconds. With these trendy leisure boots with the look of canvas, kids can be smack in the middle of life in the shortest time.
Those little grown-ups can step into their role models' shoes and run straight into their next adventure with giant leaps and bounds faster than ever imagined. Where the journey heads is, of course, totally no matter. Be it for everyday wear or playing outside, these mid-calf boots are ready to go anywhere you do with their second-hand canvas look combined with waxed smooth leather. Even the kid-specific Sneaker Summer Soles flexibly accommodate the constantly changing demands of kids. And they give the best grip on any surface all year round.
Wonderfully light-footed is how the LOWA LIAM QC model comes across, and it is a real eye-catcher, not only in its look but also with its performance.A total trendsetter that even drives adults to gush gleefully, wishing they could once again be a kid.